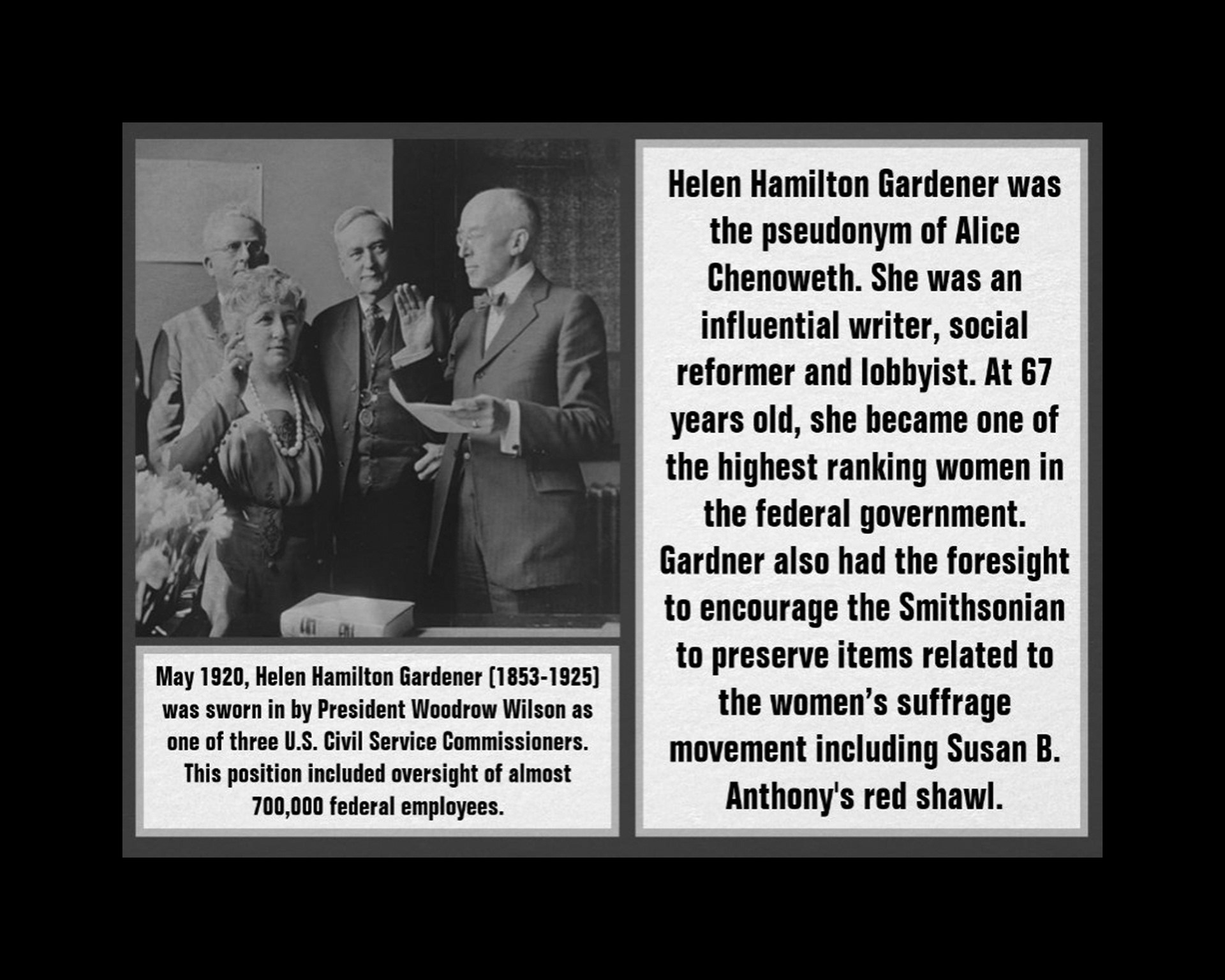 Helen Hamilton Gardener was the pseudonym of Alice Chenoweth (1853-1925). She was an influential writer, social reformer and lobbyist who became one of the highest ranking women in the federal government. Gardner also had the foresight to encourage the Smithsonian to preserve items related to the women's suffrage movement. 
Gardener was a complex woman with many chapters to her life. She was born in Virginia to a slave holding family. Her father, a Methodist preacher, chose to emancipate his slaves and become a scout for the Union. Eschewing marriage, she moved to Cincinnati, Ohio and worked as a teacher. By twenty-one she was the youngest school principal in the state but this career soon ended in scandal when she had an affair with the Ohio commissioner of schools who was already married. She had to leave town but she never forgot how the double standard for sexuality was used against her. She later wrote, "A man is valued of men for many things, least of which is his chastity. A woman is valued of men for few things, chief of which is her chastity."
She eventually married and moved to New York City. She wrote articles for newspapers and took classes. After getting to know the work of free thinker and famous agnostic Colonel Robert G. Ingersoll, Gardner believed that women's oppression was firmly rooted in the Bible and introduced herself to Ingersoll. He was so impressed with her intelligence and charm that he helped launch her speaking career. In one of her first speeches she made an incredibly bold but valid statement: "I claim that I have a right to offer my objections to the Bible."
She went on to publish several books, did research to help refute the claim that women's brains were inferior, helped raise the age of consent, and improve divorce laws. After the death of her first husband, she remarried and traveled extensively before she and her second husband settled in Washington D.C. Gardner invented a new life for herself as a popular D.C. socialite who was part of the National American Woman Suffrage Association (NAWSA) and even helped Alice Paul plan the 1913 parade.
Despite having been quite rebellious herself during her youth, Gardner was able to charm her way into having a regular audience with President Woodrow Wilson by presenting herself as much more reasonable and moderate than the extreme suffragists in Alice Paul's National Woman's Party. Using her superb lobbying skills, Gardner was eventually able to win over support from enough congressmen and senators to get the 19th Amendment passed by both houses of the Congress. Not only was she there when the 19th Amendment was approved on June 4, 1919 (Episode 81), but she helped plan the event even down to purchasing the gold pen used to sign the document before the amendment went on to ratification. Just a few days later, she persuaded the Smithsonian to hold the first ever suffrage exhibit. 
In May of 1920, while the states were in the process of ratifying the 19th Amendment, Gardner was appointed by Woodrow Wilson to be one of the three U.S. Civil Service Commissioners. This made her the highest ranking woman in the entire federal government, overseeing almost 700,000 employees and leading the way for women in the workplace.
When the 19th Amendment was added to the Constitution in August of 1920 (Episode 87) and the National American Woman Suffrage Association (NAWSA) was no longer needed, it was Gardner who made sure that the Smithsonian would become the new home of suffrage memorabilia including the table that was used to sign the Declaration of Sentiments at Seneca Falls (Episode 8) and Susan B. Anthony's red shawl (Episode 50). However Gardner left explicit instructions that the collection was solely from NAWSA and not to mention the National Woman's Party within the exhibit. 
Gardner not only left an incredible personal legacy, but also made sure that important parts of the suffrage story were preserved for future generations. Historians are grateful for this but it was a selectively curated version of history that remained unchallenged until 1959 when Eleanor Flexner wrote the book "History of Women's Struggle" (Episode 32).