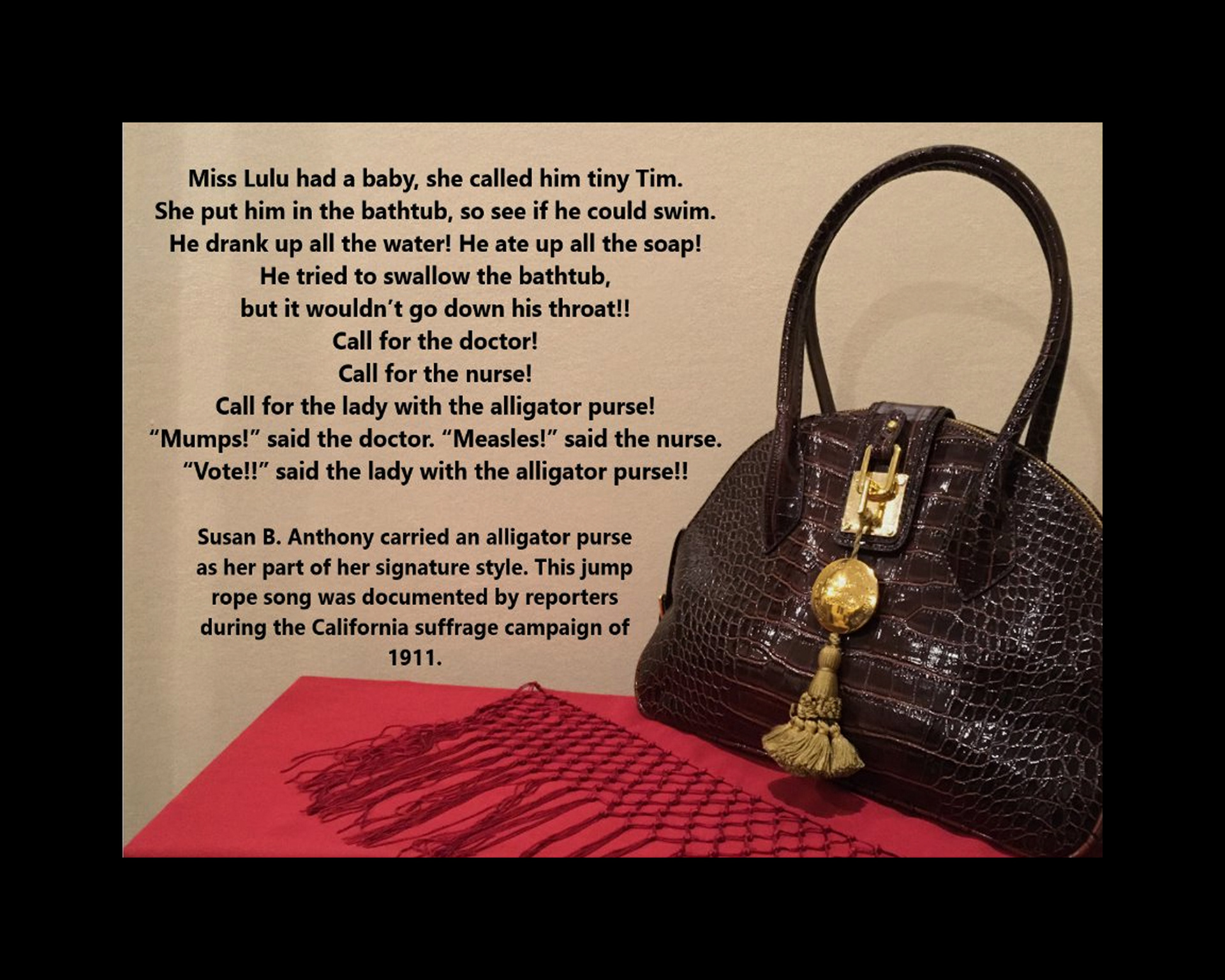 Susan Brownell Anthony, born in the living room of her childhood home in Adams, MA on February 15, 1820, died at her home in Rochester, NY, on March 6, 1906. Despite working for decades, she never saw the passage of the 19th Amendment which bears her name. (Episode 33)
There is the belief that leaders are just born into the cause, but the truth is that leaders evolve over time. Susan B. Anthony is such a mythological figure in women's rights that it's hard to conceive of the fact that she wasn't always interested in women having the right to vote. In fact, she admitted being unready to vote and didn't even attend the meeting at Seneca Falls.
The 1848 convention at Seneca Falls (Episode 8) actually had a follow up meeting two weeks later in Rochester, NY. Anthony's parents and sister, Mary, attended. The next time Susan B. Anthony came to visit them, they told her all about the exciting event. In her opening speech for the Conference of the Pioneers* portion of the International Council of Women Conference (March 31, 1888), Anthony recounted her first reaction to her father's enthusiasm about women having the vote. She laughed and said, "I think you are getting a good deal ahead of the times." She fully admitted that she originally didn't want to vote and didn't feel ready to vote but always wanted equal pay.
Anthony was more involved with the Temperance Movement but when she was barred from speaking in public because of her gender, she began to see suffrage as the best gateway to create real change. Inspired by the speeches of Lucy Stone, she took up the suffrage banner. Her life long friendship with Elizabeth Cady Stanton began in 1851 and both of them have mentioned that were it not for the support of each other through the difficulties, resistance, and ridicule, perhaps they would have given up on the cause.
It can be hard to conceive of Susan B. Anthony ever having been uninterested in the idea of suffrage but that also gives precedent for everyone to allow their views to evolve. There is no glory in the false virtue of remaining consistent to your ideological stances if they don't fit you anymore. Being steadfast and prideful when you realize your current ideology isn't who you want to be, imprisons you and is a fate far worse than being labelled a "flip-flopper". When you learn more or see a different perspective, sometimes you change your mind and sometimes you get stronger in your current beliefs. Being open to learning more and then willing to correct or modify your course accordingly, deepens your wisdom and fosters a growth mindset. 
Ms. Anthony went from laughing at the idea of suffrage to being it's most lauded champion, but suffrage only happened because of thousands of unnamed people who supported the cause on an individual level. Working for a cause can't be done by just the people at the top. They lead the way but it takes a multitude of people to make change happen. If you care about a cause, you can start advocating as soon a you want...right this very moment. You don't have to be brave, or strong, or well-connected. You just have to care enough to stop being a bystander and manifest your beliefs into action. 
Other fun facts about Susan B. Anthony is that she always carried an alligator-skin purse and wore a red silk shawl. The purse, which was a doctor-style bag, was used more like a briefcase as it was constantly filled with letters, pamphlets, and speeches. The original bag is on display at the Susan B. Anthony House Museum in Rochester, NY. The shawl was a practical item in the days before photography was common. Reporters and fans could readily identify her the moment she came into town. Her original shawl is at the Smithsonian's National Museum of American History in Washington D.C. 
#SuffragetteCity100 #SufferingForSuffrage
* "International Council of Women" convention of 1888 with primary source material spoken by Susan B. Anthony and Elizabeth Cady Stanton at the conference. The part of the speech when Anthony discusses her initial reaction to the idea of suffrage (page 327) and Stanton talks about meeting Lucretia Mott at the World Anti-Slavery Convention in 1840 and how people really reacted to Seneca Falls. Stanton's own father thought she had gone insane and travelled all night to make sure she was okay (pages 323-325).
*Another primary source for full transcript of the "International Conference of Women" 
Susan B. Anthony Birthplace Museum, Adams, MA
Susan B. Anthony House, Rochester, NY