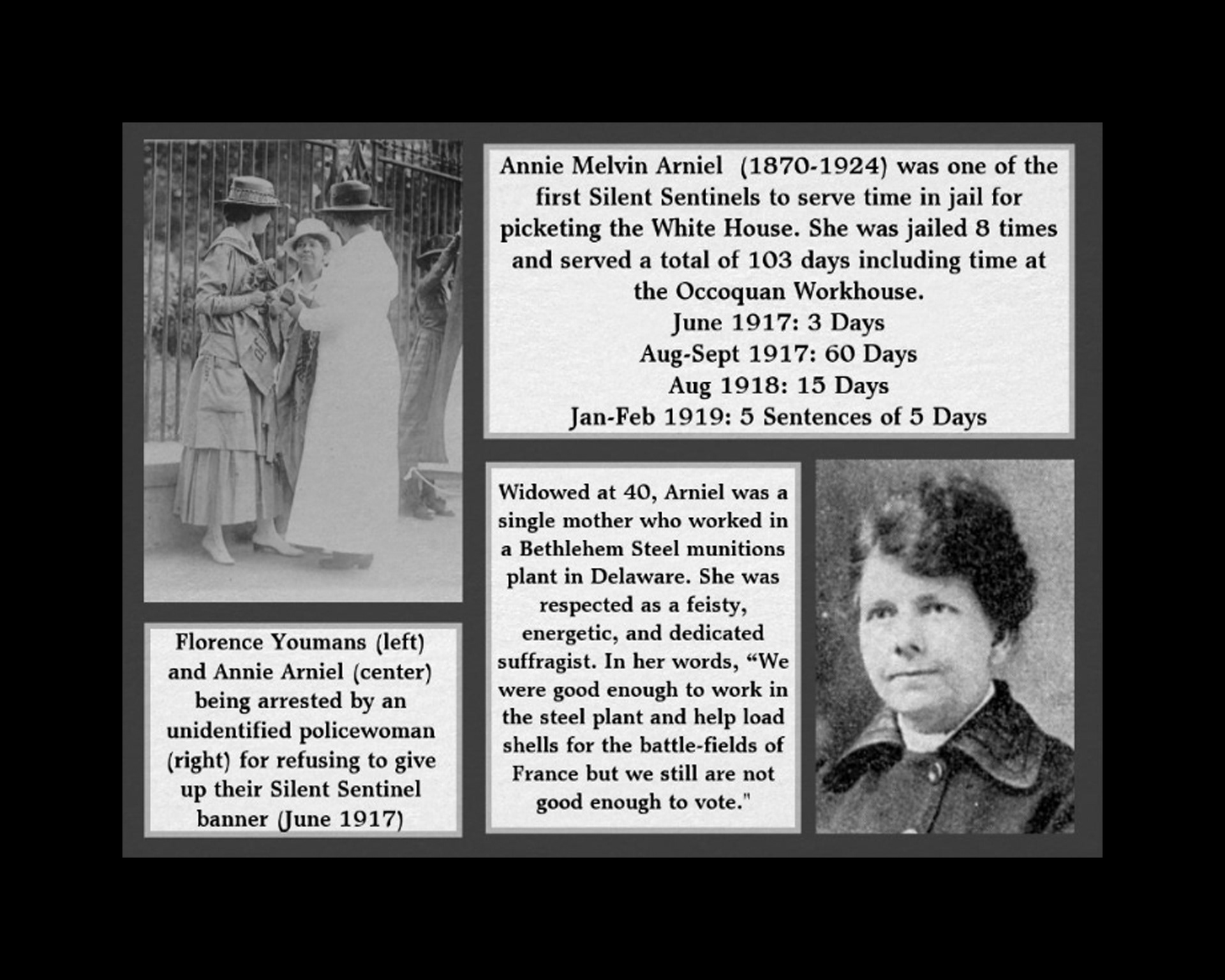 ​​​​​​​
Annie Melvin Arniel (1870-1924) was an exceptionally dedicated suffragist who had a tragic life. She became a widow while pregnant with her second child, who perished shortly after birth, and raised her first child, Rebecca, on her own. Her earliest documented involvement was holding "parlor meetings" in her home to discuss women's equality. She and her young daughter marched in a Washington D.C. suffrage parade. Arniel was elected as a delegate to represent Delaware at a National American Woman Suffrage Association (NAWSA) convention and she served as secretary for the Delaware branch of the Congressional Union (CU). She was also the representative for Delaware at the memorial service for suffrage martyr Inez Milholland in December of 1916. 
In 1917 she was part of the Silent Sentinels who picketed the White House. In June, she and 5 others became the first of the Sentinels to serve time in jail for the peaceful protests. Arniel went on to be arrested seven more times. During her eight arrests and jail times, she served a total of 103 days, including 60 days at Occoquan Workhouse. Arniel's health was greatly compromised by her imprisonment. 
After she was released from Occoquan in the early winter of 1917, she started working at the Wilmington location of Bethlehem Steel which was making munitions for the war effort. She had a great sense of loyalty to her country even though she was denied the right to vote due to her gender. She told a reporter, "We were good enough to work in the steel plant and help load shells for the battle-fields of France but we still are not good enough to vote".
She continued to fight for suffrage and serve jail time for it until the passage of the 19th Amendment. After women won the right to vote, she actively worked to help register and educate voters. Sadly the toll of her life and continued poor health led her to commit suicide in 1924. Her final note addressed to her daughter Rebecca simply said, "Goodbye, daughter" and bequeathed her the money in her bank account.