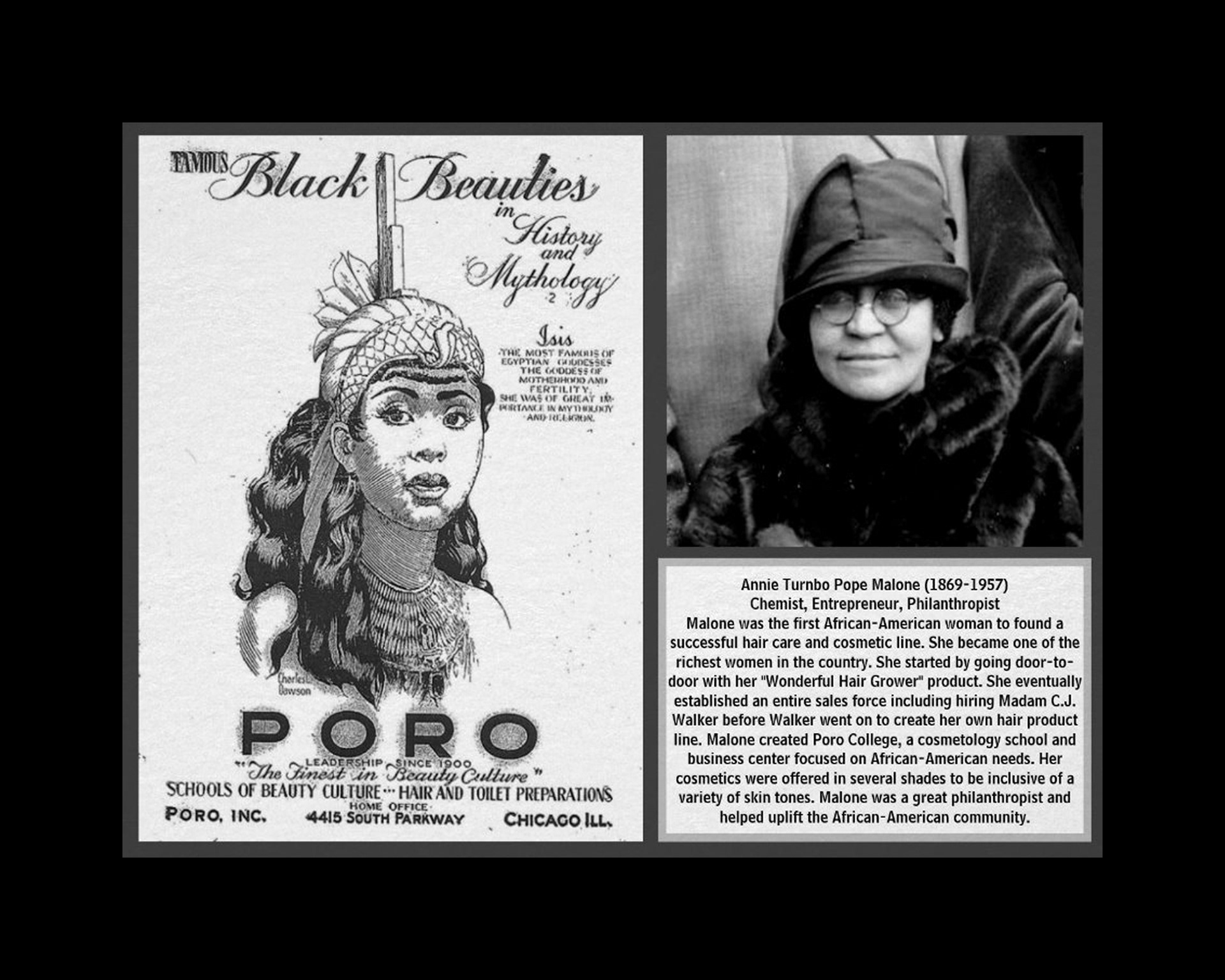 Annie Turnbo Pope Malone (1877-1857) was the tenth of eleven children born to Robert and Isabella Turnbo. Orphaned at a young age, she was raised by her older sister in Peoria, IL. She married twice, first to Nelson Pope (1903-1907) then to Aaron Malone (1914-1927). 
At the age of 20 she came up with a line of products specifically designed for the needs African-American hair. Malone started going door-to-door. In 1902 she moved to St. Louis, MO which was home to the 4th largest African-American population. She marketed her products at the 1904 World's Fair, advertised in African-American newspapers, and travelled through the South often giving free treatments and demonstrations in churches. One of her most famous products was "Wonderful Hair Grower" and her hot comb system. Malone was a savvy businesswoman and hired African-Amercan women as a sales force. A notable sales agent was Madame C.J. Walker who worked for Malone for over a year before creating her own similar product, "Madame C.J. Walker's Wonderful Hair Grower." In 1906 Malone trademarked the name "Poro" for her product line. By 1910 Poro products were marketed nationwide and had expanded well beyond hair to encompass all beauty needs. Her cosmetic products came in a wide variety of skin tones and her marketing emphasized African-American beauty. 
In 1917 Malone founded Poro College. The massive building was more than a cosmetology school. It included manufacturing facilities, chapel, bakery, ice cream parlor, a theater, gymnasium, and auditorium. The space welcomed many important African-American business and political groups to use the meeting spaces and facilities. It became the center of the African-American community in St.Louis and provided many jobs. Graduates of Poro College learned more than beauty skills. Malone had programs to teach social graces, style, and business so that the graduates were positive role models as well as being successful stylists.
Malone became the first African-American woman to be a millionaire amassing an estimated 14 million. She was also a great philanthropist and donated large sums to African-American communities, schools, and causes. However, her divorce in 1927, stock market crash, and  subsequent legal battles depleted almost everything. In 1930 she moved her business to Chicago but never regained success. Subsequent years led to more and more debt. By 1951 her business was sold to pay government taxes. She died in relative obscurity in 1957 with her remaining assets going to her nieces and nephews.