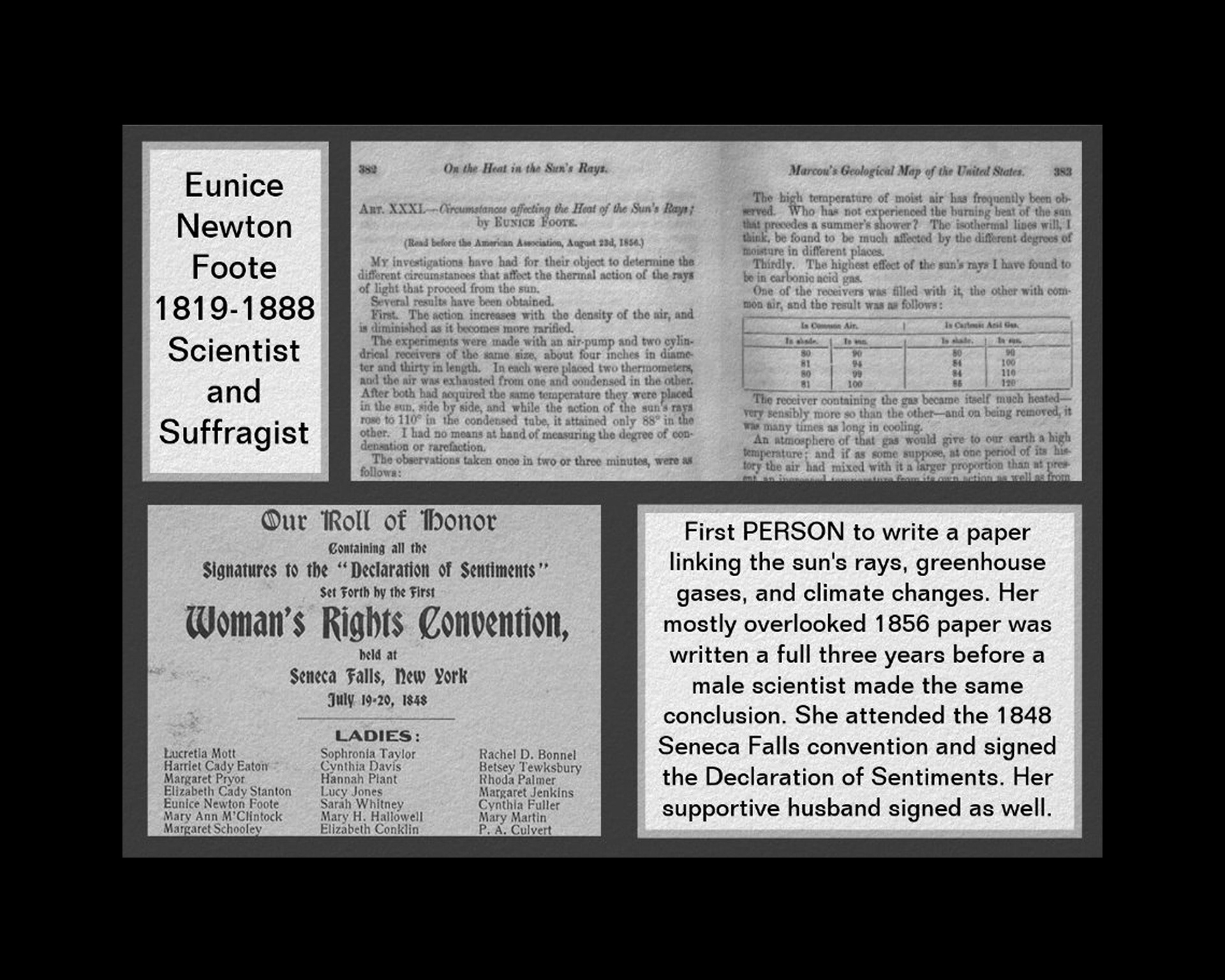 #WCW Eunice Foote (1819-1888) 
Three years before Irish physicist John Tyndall discovered the greenhouse effect, Eunice Foote presented a paper in 1856 on that very subject to the American Association for the Advancement of Science. Her paper also demonstrated the effect of the sun's rays on gases including carbonic acid and theorizing that such interactions taking place in the atmosphere has a significant impact on Earth's climate. (Tyndall appears to have come to his conclusion independently and had not plagiarized anything. Many times there is independent discovery of the same ideas.) However, Foote was indeed a full three years ahead of him. 
Sadly, while she may have been allowed to present a paper, she was not allowed to read it. A man had to do that for her. Professor Joseph Henry of the Smithsonian Institution precluded his reading of her paper by protesting that science is not a place for gender discrimination. Although her paper was accurate and groundbreaking, it was not widely published. After the reading, it and she went back into obscurity. It wasn't even acknowledged in the conference proceeding notes.  She might have been completely forgotten but there was an article in the September 1856 issue of Scientific American, titled "Scientific Ladies—Experiments with Condensed Gases," that explained her discoveries and which concludes "... the experiments of Mrs. Foote afford abundant evidence of the ability of women to investigate any subject with originality and precision."
There are a lot of women who should have been called professional scientists but were only allowed the title, "amateur scientist" or even more commonly, "natural philosopher."  The first female paleontologist, Mary Anning, was only allowed the very non-professional title of "Fossil Hunter," despite massive contributions to scientific knowledge. It can be very hard to find women in lists of professional scientists of any past era in written archives let alone online searchable ones because they weren't allowed the same titles as a man. In fact, SuffragetteCity100 could find no images of Foot for this graphic other than this one or a screenshot of her paper. However Eunice Foote was present at the 1848 Seneca Falls Convention. She is the fifth name on the list of signers and her husband, Elijah Foote, signed too.