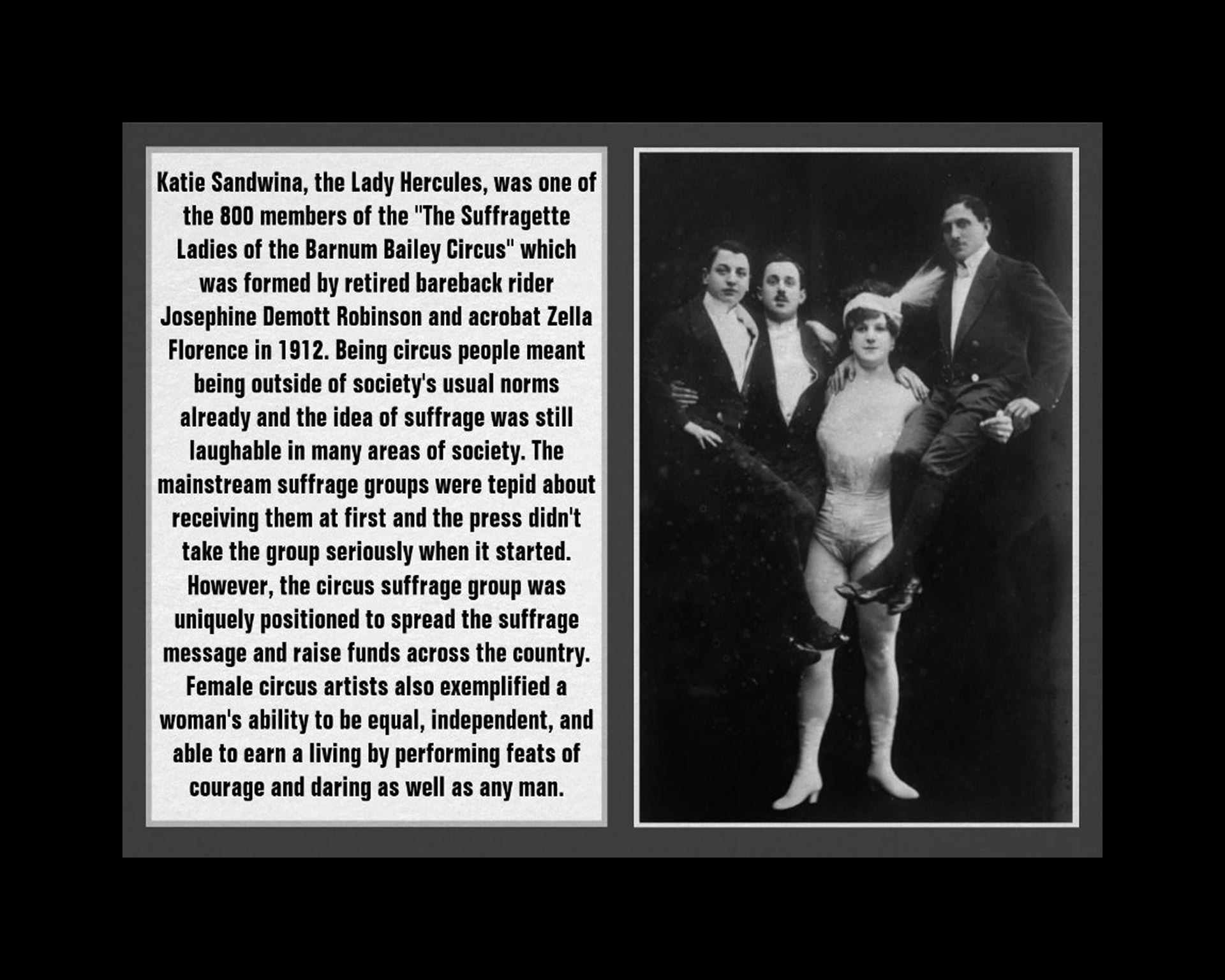 Lead by retired bareback rider Josephine Demott Robinson and acrobat Zella Florence, the female performers of Barnum and Bailey Circus gathered for the first time in March of 1912 at the Madison Square Garden's Animal Menagerie. A top representative of the Women's Political Union, Inez Millholland, was scheduled to meet with them but chose not to come at the last minute perhaps worried it was a circus publicity stunt. The circus women were used to not being taken seriously, so they crashed the Women's Political Union tea social being held that day and insisted that circus women deserved to be included as part of the suffrage movement.  
The WPU sent over a single representative to attend the circus meeting. WPU representative Miss Beatrice Jones was impressed by the group of moderately dressed and articulate women who assured her that despite having unusual careers and performance attire, circus women sincerely wanted to be a legitimate part of the suffrage movement. 
In April, 15 representatives of the newly-formed, 800-member-strong, "Suffragette Ladies of the Barnum and Bailey Circus" were formally invited to tea at the Women's Political Union headquarters on East 29th Street. Josephine Demott Robinson recounted how she had single-handedly driven dog sleds over the mountains in the territory of Alaska and had lived alone among the natives yet was not allowed to fill out a census form unless she did it in her husband's name. Robinson explained that circus women were skilled wage earners who traveled for their careers, often leaving small children with grandparents while on the road, and deserved equal protection and voting rights as much as any other professional woman. The WPU members felt that circus women more than proved themselves by being strong and independent women who regularly performed feats of daring and courage as well as any male performer 
The circus suffragettes were an amazing array of star performers and artists including Katie Sandwina, the Lady Hercules, who despite being 6'1" and possessing extraordinary strength, was still viewed as a paragon of femininity and womanliness.