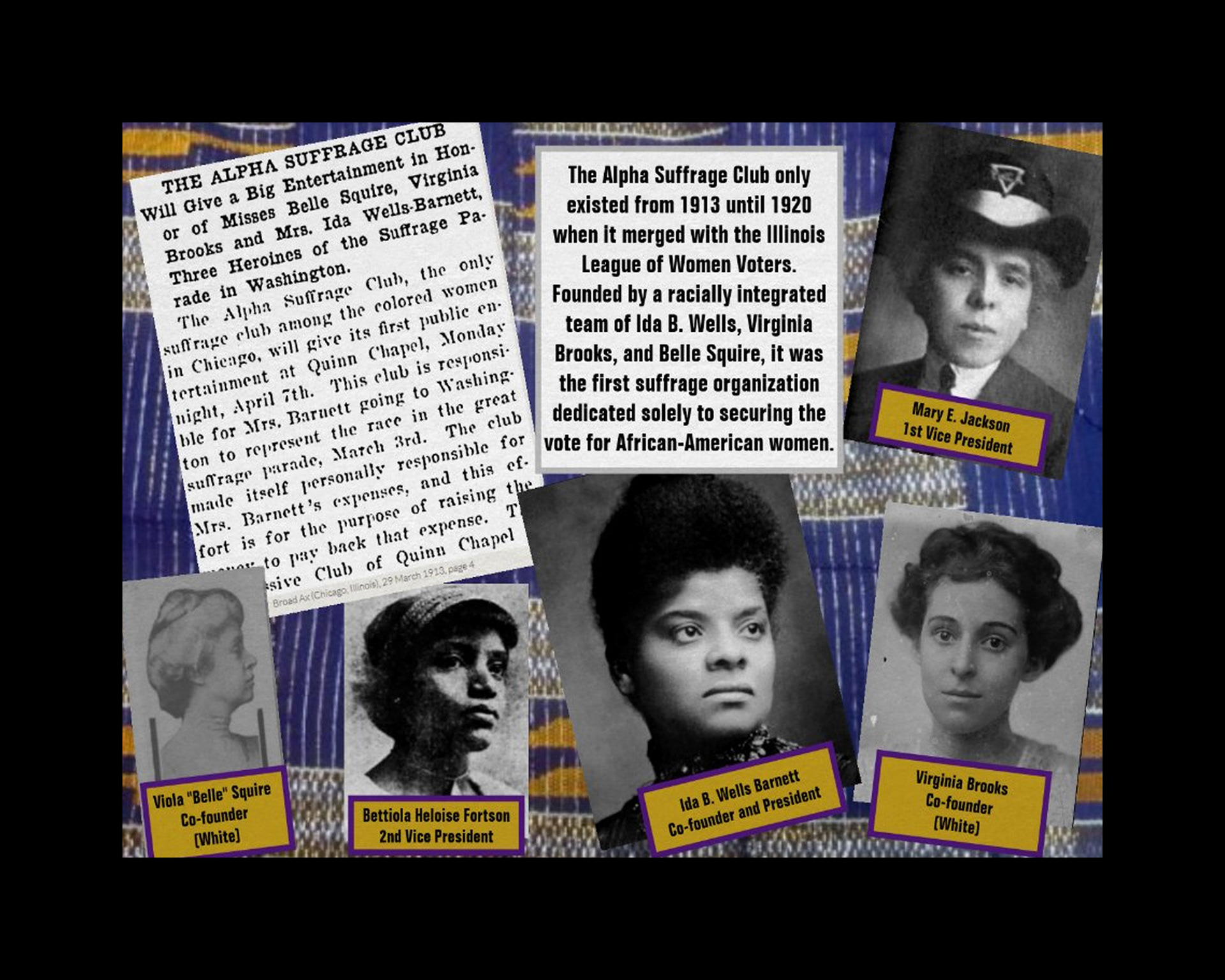 Although it's easy to think about voting in terms of an individual having full voting rights or none at all, there are many ways to have partial suffrage. As far back as the mid 1800s several states granted women the right to vote in school elections, especially if there was no male head of household. Some states eventually allowed women to vote in municipal (city) but not in state or presidential elections; women received modified ballots on election day. Then there was Illinois who granted partial suffrage to vote for municipal elections and the president himself but no other officials in state or federal elections. 
Women in Illinois won the right to vote in school elections in 1891. They tried for municipal suffrage in 1907 and lost. However, the movement kept growing. More and more suffrage groups kept forming. These groups crossed all color, ethnic, and class lines. Among them were the Chicago Political Equality League, the Illinois Equal Suffrage Association, and the Illinois Federation of Women's Clubs. Flora Witkowski led the Jewish Chicago Woman's Aid. Restaurant worker Elizabeth Maloney led the Self-Supporting Woman's Equal Suffrage Association. Hull house (Episode 36) and other settlement houses sold buttons and distributed pamphlets. Corrine Brown organized the women of the Socialist Party for suffrage. Emma Steghagen led the Wage Earners' Suffrage League. African-American Mary C. Bryon was organizing for the National American Women's Suffrage Association (NAWSA), and Ida B. Wells (Episode 39) led the Alpha Suffrage Club. 
Under all this pressure for suffrage but still enough resistance against full suffrage, the Illinois legislature was able to pass partial suffrage. Women could vote in municipal elections and one federal election--the presidential. Women would receive a modified ballot and have a separate ballot box. All other state and federal elections were for the male electorate only.  Despite this half-measure, suffrage leaders considered it a victory and in Chicago alone over 150,000 women registered to vote in 1914. (A 1907 federal law disenfranchised some female voters because it decreed that a woman is considered her husband's nationality, so American women with non-American husbands couldn't vote.)
Viola "Belle" Squire and Virginia Brooks helped Ida B. Wells found the Alpha Suffrage Club in January of 1913. It's sole purpose was to focus on the vote for African-American women because women of color faced racism within the suffrage movement and some suffrage groups felt only white women should get the vote. Squire and Brooks were white but they were there more to help Wells set up everything and then stepped back so that women of color could organize and lead the group from there. (Of course, the club also faced push back from African-American men who felt the women were trying to usurp their power and reverse gender roles.) 
The first thing the Alpha Suffrage Club did was raise funds for Wells to attend the 1913 Parade in Washington D.C. (Episode 62a). The group also helped educate women voters. Meetings had topics like "how to use a voting machine" and "proper use of the ballot" as well as important speakers such as Jane Addams. Most importantly it organized door-to-door campaigns to get women registered and out to the polls. They even went to Bridewell Prison and talked to female inmates. Their outreach worked and in 1915 they were able to help elect Oscar De Priest as the first African-American alderman in Chicago. 
When the women of Illinois finally got full suffrage with the passage of the 19th Amendment, the Alpha Suffrage Club ceased to exist as an independent club and became part of the Illinois League of Women Voters.
#SuffragetteCity100 #SufferingForSuffrage