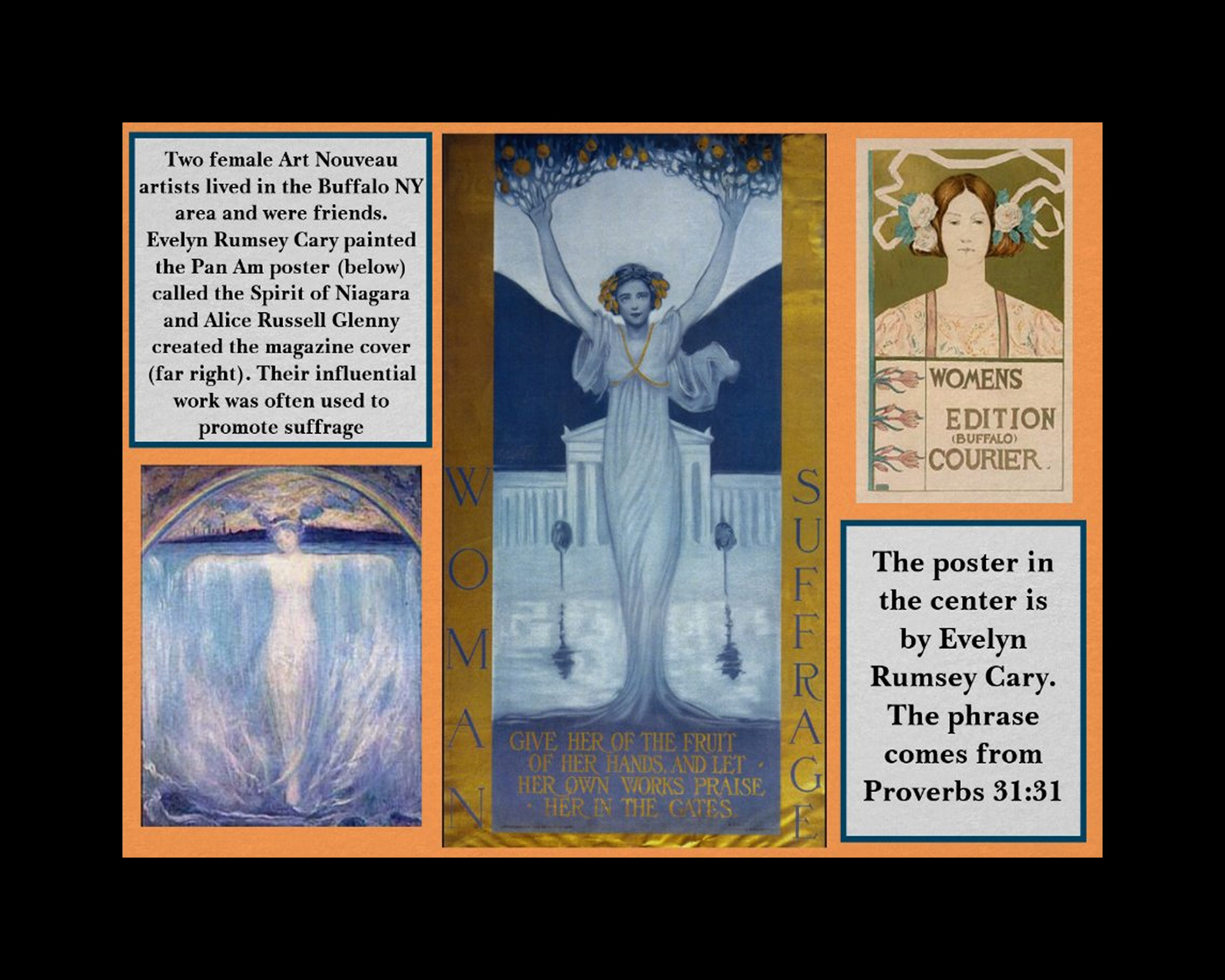 The "Winning Plan", National Woman's Party, and Littering.
After the defeat of the 1915 New York state suffrage campaign, Carrie Chapman Catt dissolved her "Woman Suffrage Party" (Episode 51) and reluctantly became president of the National American Woman Suffrage Association (NAWSA) for a second time. This time she changed tactics. Calling it her "Winning Plan", she only concentrated on states that had the best chance of passing state suffrage amendments. NAWSA's funds would be used more effectively by avoiding "detour" states that were unlikely to pass suffrage, such as many southern states. Much of the critical funding for NAWSA's publications came from the "Empress of Journalism" and extremely colorful character Miriam Folline Squire Leslie. Leslie was known by many variations of her name including legally changing it in 1881 to that of her third husband, Frank Leslie, in order to save his publishing business by running it herself after his death. She left nearly two million dollars to "Mrs Carrie Chapman Catt … to the furtherance of the cause of Woman's Suffrage".  Half of the inheritance was spent fighting descendants who contested the will but after two years, Catt was able to use the rest of the money (about one million dollars) to fulfill Leslie's wishes.
In June of 1916, The Congressional Union (Alice Paul's group) sponsored the National Woman's Party Convention in Chicago. The CU rebranded itself as the National Woman's Party (NWP) declaring the NWP to be the world's first female political party and vowing to use the power of current women voters to influence politicians to pass a national suffrage amendment. 
People, including suffragists, were a little less concerned about littering in the early 1900s. In 1913 Rosalie Jones, a popular leader of the famous suffrage hikes, was a passenger on a plane during the opening ceremony of an air carnival in Staten Island, NY. As the plane soared over the crowds, she dropped a suffrage "bomb" consisting of  hundreds of pamphlets. (Airborne leaflet propaganda had been used in warfare since the late 1870s, first from hot air balloons then later from airplanes. It has been used as recently as 2015 in Syria.) When she landed, she gave a pro-suffrage speech and released a hundred balloons. 
In 1916 while the "Suffrage Special" train was on its five week promotional tour of the western states, Lucy Burns left the train for a few hours to fly with Lieutenant Terah Tom Maroney on a hydroplane. She "bombed" the city of Seattle with leaflets promoting the upcoming National Woman's Party Convention in Chicago.
Finally in December of 1916, two NAWSA suffragists attempted to "bomb" the Presidential yacht during a ceremony celebrating the Statue of Liberty. The original pilot, Ruth Law, was unable to do it because she was part of the ceremony so Leda Richberg-Hornsby took her place. (Richberg-Hornsby was the first woman to graduate from the Wright Brothers Flying School in Dayton, OH.) Known as the "Suff Bird Women", Richberg-Hornsby and her passenger Ida Blair took off in a two-seater bi-plane. They had a "Women Want Liberty Too" banner and leaflets ready to go. However the fragile plane was no match for the winds that day and they had to crash land in Staten Island swamp before they could complete their mission. There were some bumps and bruises but both women were okay. 
#SuffragetteCity100 #SufferingForSuffrage
Miriam Folline Squire Leslie:
"Suffrage Special" Train Route:
Airborne Leaflet Propaganda: