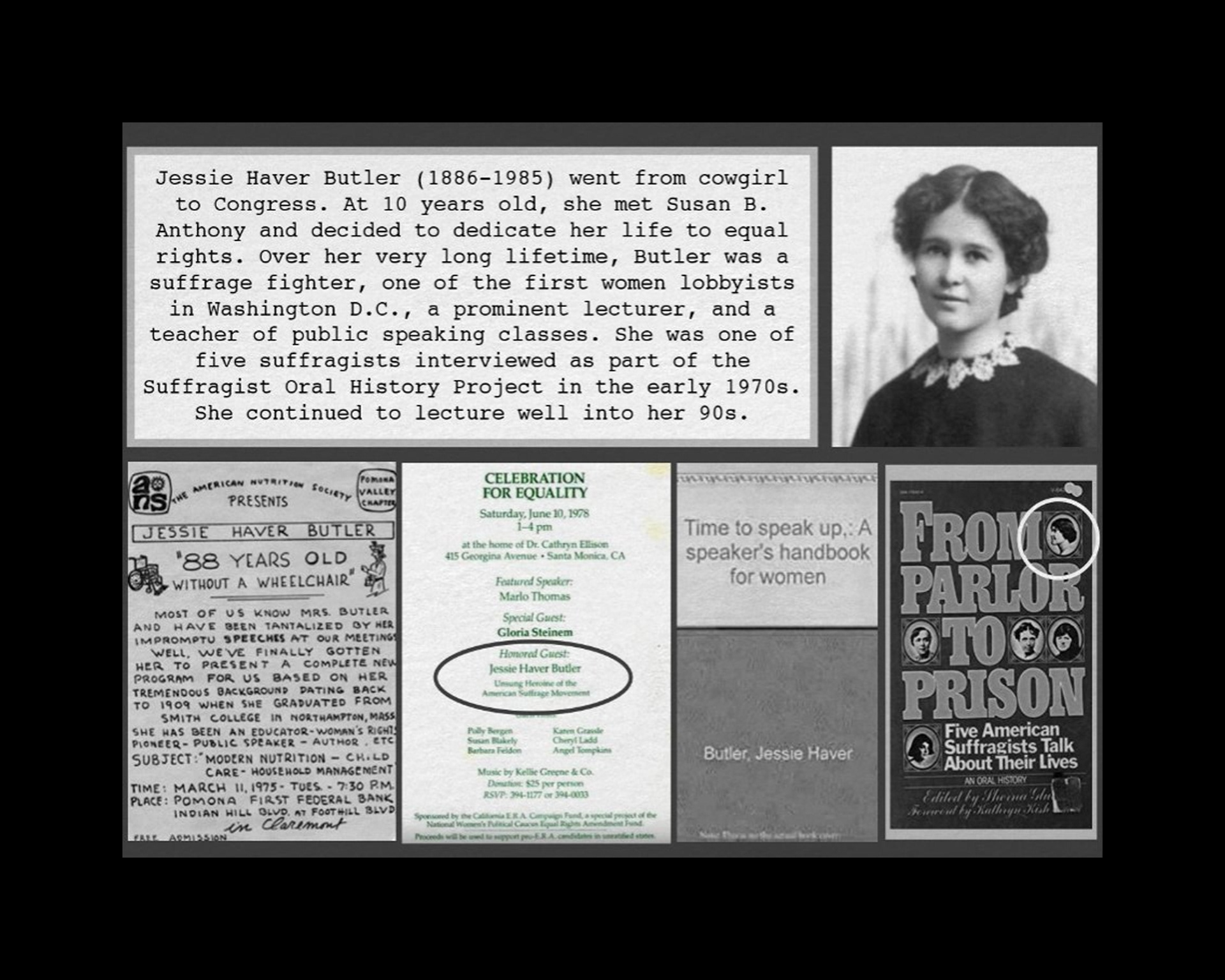 Although barely heard of today, Jessie Haver Butler (1886-1985) was quite well-known by influential women of both the suffrage movement and second-wave feminism. She worked as a professional lobbyist for suffrage and used to go across the street to have lunch with Alice Paul on a regular basis. Butler gave speech lessons to prominent women; Eleanor Roosevelt endorsed Butler's public speaking classes and Lady Astor wrote the forward to Butler's book "Time To Speak Up: A Speaker's Handbook for Women". In the early 70s, Butler was one of five women profiled by Sherna Gluck for the Suffragist Oral History Project and documented in the book, "From Parlor to Prison" (1975 commercial title, the alternate academic title is "The Suffragists: From Tea-Parties to Prison"). The other four women profiled by Gluck for the book were Sylvie Thygeson, Mariam Allen deFord, Laura Ellsworth Seiler, and Ernestine Kettler. Butler also shared the podium with Gloria Steinem, Jane Fonda, and Marlo Thomas to help promote the Equal Rights Amendment.
Jessie Haver had a tragic childhood but at 10 years old, she met Susan B. Anthony who was on a speaking tour. From that fateful meeting, she knew she wanted to dedicate her life to fighting for equal rights. A high school teacher helped her get into Smith College where she majored in Public Speaking. She moved to New York and helped Professor Cunliffe design the Pulitzer School of Journalism at Columbia University. 
She worked for both the Massachusetts State Minimum Wage Commission and Consumer's League and fought for a fair minimum wage for women. She became one of the first women lobbyists in Washington D.C. She was hired as a lobbyist by Carrie Chapman Catt to represent the newly formed League of Women Voters to help finish the fight for suffrage. Butler knew both Alice Paul and Carrie Chapman Catt and felt that the tactics of both the National Woman's Party (NWP) and National American Woman's Suffrage Association (NAWSA) were necessary to win the vote.
Jessie Haver married her best friend Hugh Butler in a secret wedding on December 6, 1920. Hugh got a job in London as a diplomat and Jessie came along. They had two children while living overseas. Jessie Haver Butler was presented to Queen Mary and King George of England and also met George Bernard Shaw. Shaw was so charmed by Jessie that he invited her to join him on a speaking tour of London.
Hugh and Jessie Butler returned to America with their two young children, Rosemary and Richard. Hugh was asked by President Franklin Delano Roosevelt to help run the newly created Social Security system. Jessie started teaching public speaking courses. They were so well done that Eleanor Roosevelt made a personal appearance at her class to endorse the program. Jessie went on to write a handbook about public speaking specifically for women speakers.
Jessie continued to fight for equal rights and gave lectures on various topics until she was 94 years old. She died at 98 years old in 1985 leaving an epic legacy of a life well lived.
Jessie Haver Butler's granddaughter, Mila Johansen, wrote her biography: "From Cowgirl to Congress". (Sherna Gluck wrote the introduction.) Johansen has dedicated a part of her website and her YouTube channel to documenting Butler. 
Smith College has 1 linear foot of archived material about Jessie Haver Butler including photos, a scrapbook, tapes, and copy of her book, "Time to Speak Up"
A cataloged 1975 interview with Jessie Haver Butler by Sherna Gluck (University of California)
Digital text of the book "The Suffragists: From Tea-Parties to Prison" for research purposes