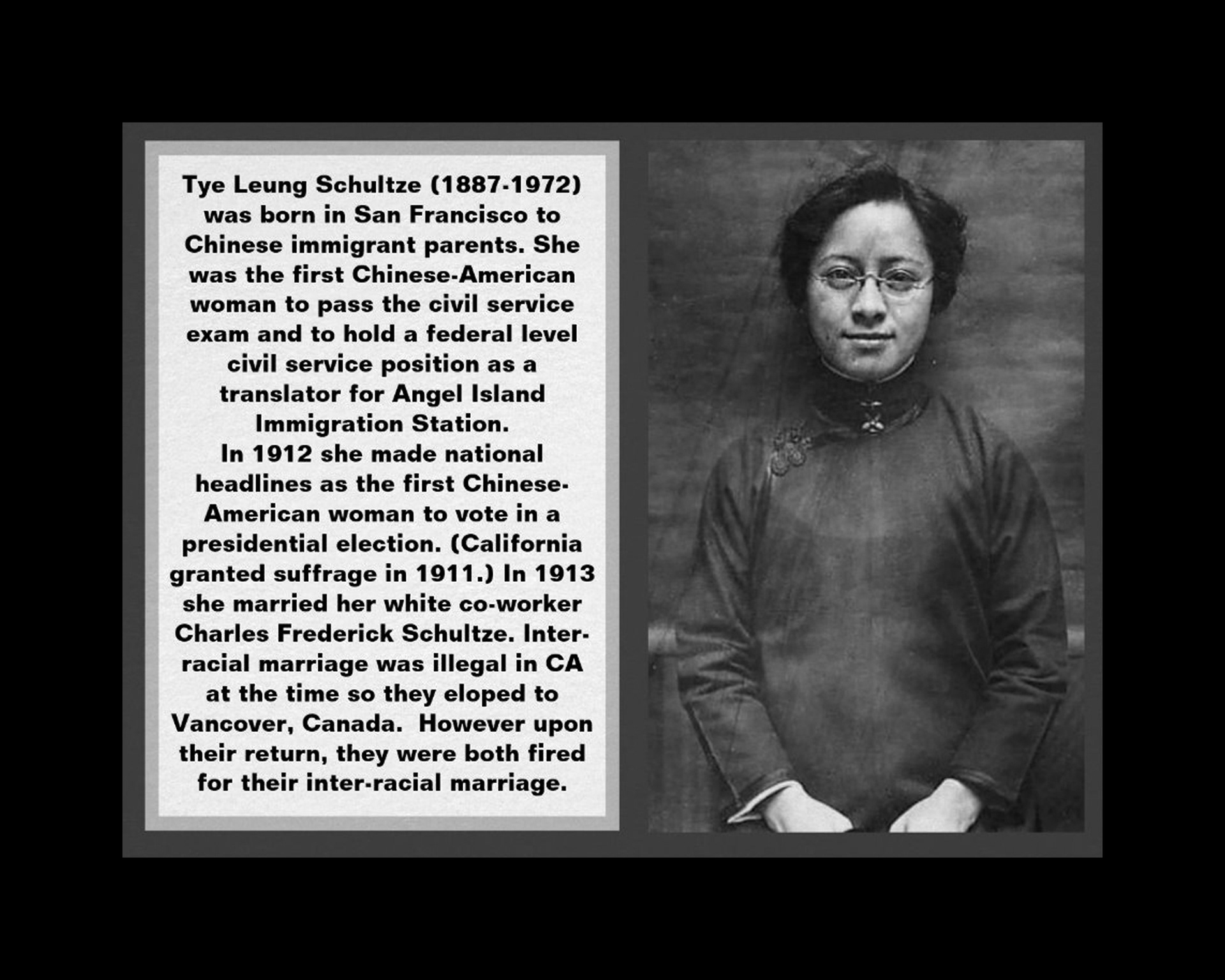 #WCW 
Tye Leung Schultze (1887-1972)
The child of Chinese immigrants, Tye Leung Schultze was born in San Francisco in 1887. The youngest of eight children, she grew up very poor and her only access to education was a segregated missionary school to learn English. Her parents had arranged for her sister to be married to a much older man from Montana.  Her sister eloped with a boyfriend so her parents were going to send Tye in her place. Tye ran away to the Chinatown Presbyterian Mission Home and was offered refuge by the mission's manager, Donaldina Cameron, a teacher and local activist who often rescued girls from prostitution and domestic servitude. Known as "Tiny" because she was barely over four foot tall, Tye became a skilled translator and often interpreted for rescued girls in the San Francisco area court system.   
When the Angel Island immigration station was opened in 1910, Tye was recommended as an interpreter. She became the first Chinese American woman to pass the civil service exam and hold a federal civil service position.  When California passed universal suffrage, she made national headlines for being the first Chinese-American woman to vote in a presidential election. When asked how she felt about voting, she replied "My first vote? - Oh, yes, I thought long over that. I studied; I read about all your men who wished to be president. I learned about the new laws. I wanted to KNOW what was right, not to act blindly...I think it right we should all try to learn, not vote blindly, since we have been given this right to say which man we think is the greatest...I think too that we women are more careful than the men. We want to do our whole duty more. I do not think it is just the newness that makes use like that. It is conscience" 
(Tye was eligible to vote because she was born in America, it would be decades later until Asian immigrants were allowed to become full U.S. citizens.)
In 1913 she fell in love with her white co-worker, immigration inspector Charles Frederick Schulze. Because of laws against inter-racial marriage, the couple wed in Vancouver, Canada, but were both subsequently fired from their jobs upon their return. Charles became a mechanic and telephone repairman. Tye was able to be a telephone operator for Pacific Telephone's China Exchange. She always found work interpreting for immigration officials, courts, and never refused to help. She and her husband had four children before he passed away in 1935. Tye lived to be 84 years old and died in 1972.