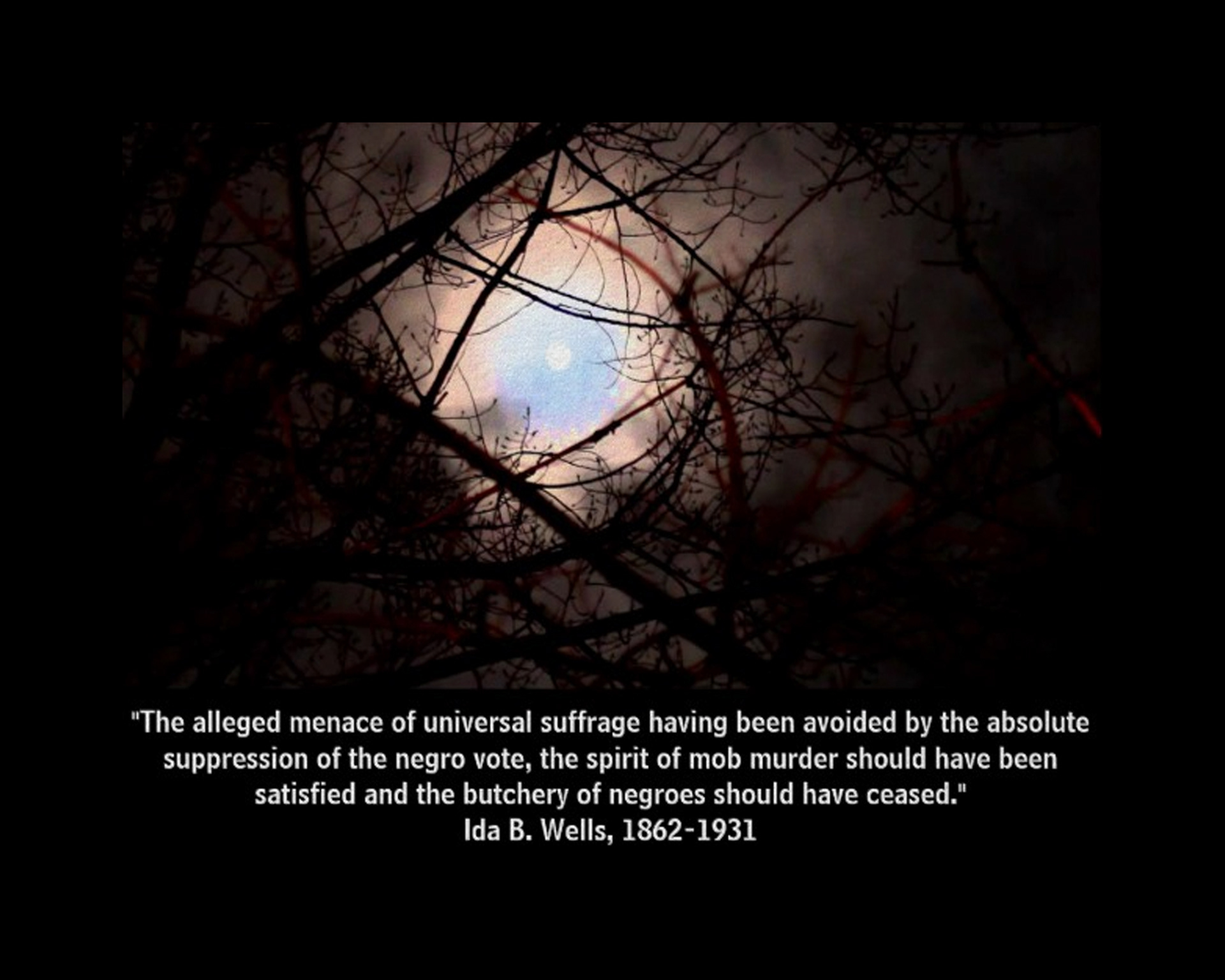 Ida B. Wells-Barnett, 1862-1931, led an extraordinary life. Born into slavery in Mississippi, she was three years old when slavery was abolished. Yellow fever struck her family when she was 14 years old. Both her parents and younger brother died. Wells took a teaching job in order to support and care for her remaining siblings and later moved everyone to Memphis, Tennessee.
In 1883, she was on a train from Memphis to Woodstock, TN, where she had a teaching job. She had paid for a first class ticket to avoid the rowdy and crowded second class cars. The conductor asked Wells to move to the second class car because of her race. She refused, insisting that she had fairly bought a first class ticket. She was forcibly removed from the train and even bit the conductor and tore part of her dress in the scuffle. (This was 72 years before Rosa Parks politely refused to sit at the back of the bus.) Refusing to be mistreated in such a manner, Wells sued the railroad company for damages. She won the first trial but it was overturned by the state supreme court in 1885.
In 1892, Wells had just started her journalism career in Memphis when three African-American men were brutally lynched in a neighborhood called The Curve just outside the city. It was a purely racially motivated attack designed to intimidate the African-American community. The root cause was that the African-American owned "People's Grocery" was more successful than the white-owned grocery in the same neighborhood. Link to the full story listed below.
She decided to investigate the real reasons why African-Americans were being targeted and set up for lynching attacks. She wrote several newspaper articles and a pamphlet. The locals were outraged by this and burned down her printing office while she was away. Under constant threat of harm, she left Memphis to go to Chicago where she continued her national anti-lynching campaign even going to England to bring international attention to cause.
In Chicago she met and married William Barnett, a lawyer and newspaper owner. Wells choose to hyphenate her last name. The couple had four children and she continually balanced motherhood with her suffrage and civil rights activities. She said, "I honestly believe I am the only woman in the United States who ever traveled throughout the country with a nursing baby to make political speeches." Baby Herman was with her in 1898 when she met with President McKinley and lobbied congress (unsuccessfully) for an anti-lynching law. 
In 1913, Wells founded the Alpha Suffrage Club, one of the first suffrage organizations specifically for African-American women. She and 60 delegates from Illinois went to the 1913 suffrage parade in Washington D.C. They were told that African-American delegates had to march at the back of the parade so as not to offend the southern suffrage groups. She argued to march with the main Illinois group, "Either I go with you or not at all. I am not taking this stand because I personally wish for recognition. I am doing it for the future benefit of my whole race." She was still told to march at the back of the parade. Wells appeared to comply but at the last minute she doubled back and joined the all white Illinois group with the support of fellow suffragists, Belle Squire and Virginia Brooks. 
Wells was a major suffrage leader among African-American women but despite her education, fierceness, and qualifications, she faced racism from most of the prominent white leaders of both suffrage and temperance movements. Her militant and fiery temperament was necessary for her to be so courageous but it also worked against her. Even African-American groups like the NAACP found her to be too radical to be an effective leader and often distanced themselves from her association. Leaders like W.E.B. Dubois felt that African Americans should be their best selves under Jim Crow Laws to show their dignity and peacefully win public support; Wells argued that there shouldn't be Jim Crow laws at all and wanted people to push back against discrimination. Wells was put so far off to the side that she was not even mentioned in the NAACP article published in 1912 about the people who had led the campaigns against lynchings. 
Ida B. Wells-Barnett deserves more recognition than she has had. It's easy to take her often inflammatory quotes out of context or be put off by her intense nature. She was willing to make a scene in public to stand up for racial equality. She would not go to the back of the parade, nor the second-class car. She called attention to the inhumane horror of lynching and made it real to general public by showing graphic pictures of the mutilated bodies. She was fighting for her people and for women's rights despite the personal risks of being an outspoken African-American woman. 
Many times it takes uncompromising radicals to call attention to issues even if it's the more moderates who eventually find a way to make the changes happen.
#SuffragetteCity100 #SufferingForSuffrage
Detailed account of the Curve lynching incident: 
Lynchings were not limited to African-Americans. Italians were the second most common target.