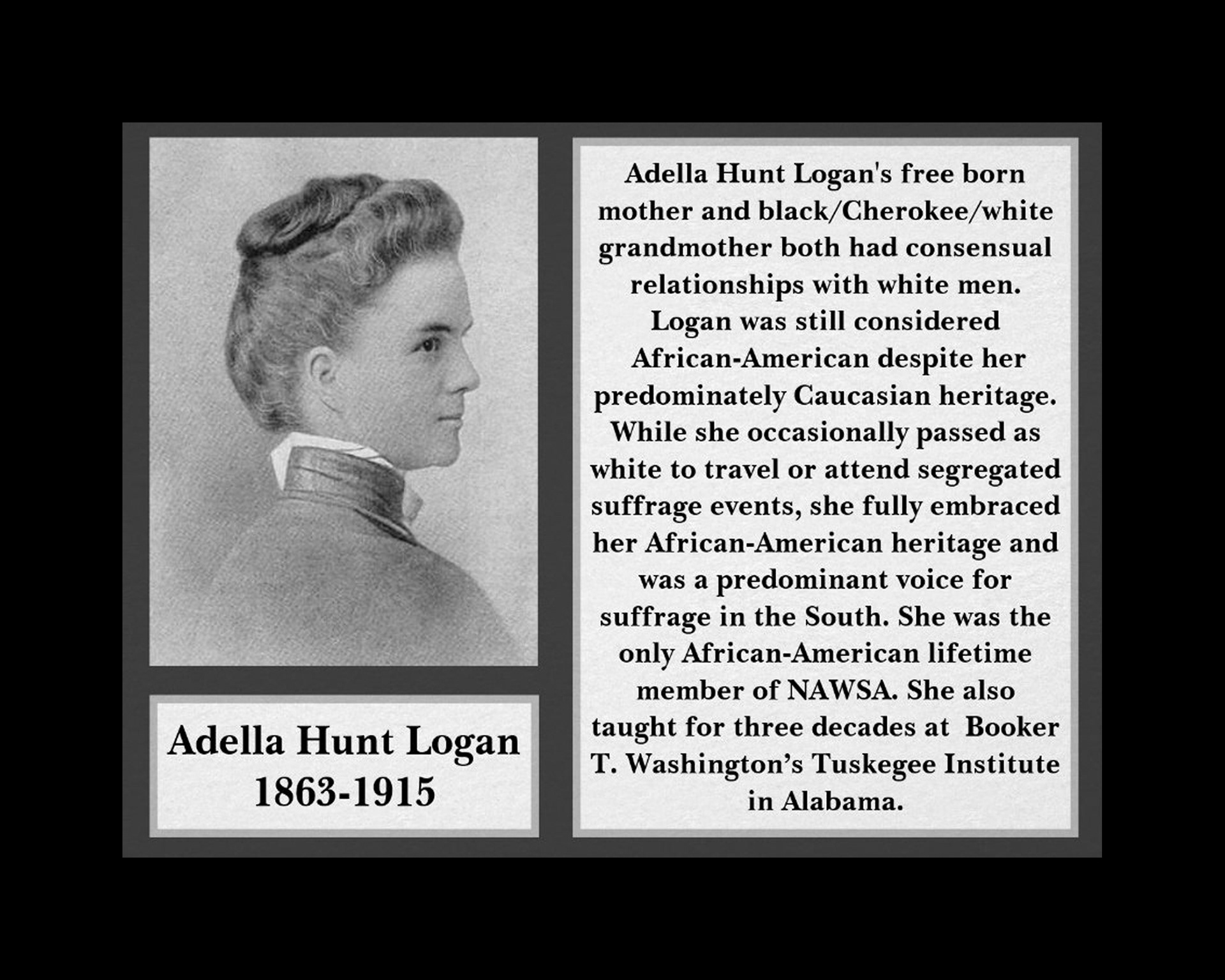 Under the law, Adella Hunt Logan was considered African-American but her ancestry was predominately white. Both her mother and grandmother (Cherokee, black, white) had consensual relationships with white men. While she occasionally passed for white when she needed to travel, she fully embraced her African-American heritage and fought for their rights in the south. 
Logan first met Susan B. Anthony at the National American Women's Suffrage Association (NAWSA)  in Atlanta, Georgia in 1985 and wrote to her for assistance in encouraging southern women to advocate for suffrage  "I am working with women who are slow to believe that they will get help from the ballot, but someday I hope to see my daughter vote right here in the South." 
She had extremely rare privilege and education for a southern African-American woman. She was tutored by a white schoolteacher cousin before graduating from Atlanta University. She taught for several decades at Booker T. Washington's Tuskegee Institute in Alabama. 
Logan encouraged African-American women to stand up for themselves and fight for suffrage as a means of protection and providing a better future for their race. She occasionally passed as white in order to attend segregated suffrage events and bring back materials and strategies for African-American suffrage groups.She often faced racism and discrimination within the suffrage movement but she was tactful and politically savvy. She is the only life-long member of NAWSA and wrote for the NAACP publication "The Crisis". Her 1912 essay, "Colored Women as Voters" appeared in the September 1912 issue and presented arguments for African-American women getting the vote. 
Full essay "Colored Women as Voters"