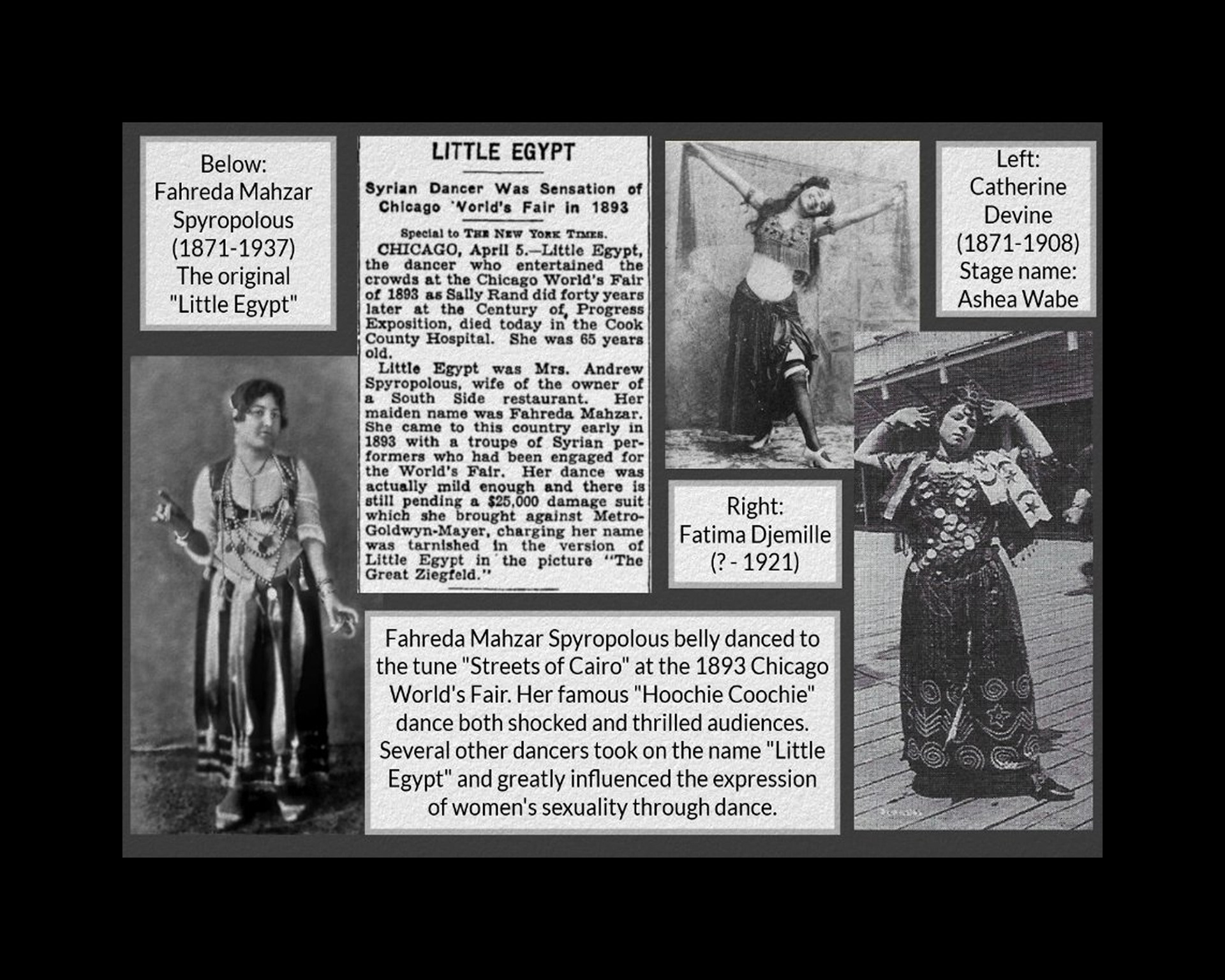 Twenty-three year old Sol Bloom caused quite a sensation when he was in charge of the Midway attractions at the 1893 Chicago World's Fair by bringing in attractions and talent from all over the world including a troupe known as the "Algerian Village" that included a Syrian dancer who changed entertainment forever.
Fahreda Mahzar Spyropolous (1871-1937) known as the original "Little Egypt" and "Fatima" performed a unique dance which was regional to Northern Africa and the Middle East. It was known as a muscle dance, Danse De Ventre, or belly dance. Although both the dance and costume are incredibly tame by today's standards, her "Coochee Coochee" dance was considered erotic, exotic, scandalous, and confronted society with the idea of women's sexuality. Anthony Comstock, creator of the 1873 Comstock Act (one of the first media censorship laws), tried to get the midway dance hall shut down which made it even more wildly popular. 
Two other women also went by the title "Little Egypt": Fatima Djemille (?-1921) and Ashea Wabe (born Catherine Devine in Canada,1871-1908). Sometimes Fatima Djemille is identified as also being part of the 1893 World's Fair and the subject of Edison's two 1896 short films but records are very unclear. Most likely there were several "Fatimas" at the 1893 World's Fair since the show was seven days a week for several months. There is also a probability of an older predecessor as there is a painting of a belly dancer in the historic Bird Cage Theater in Tombstone, Arizona. The painting known as "Fatima" has hung there since 1882. Sometimes this "Fatima" is identified as Spyropolous but she would have been too young and was most likely still in Syria in 1882. Despite the painting being labeled as an "Oriental Belly Dancer" the subject portrayed is a white woman in exotic clothing.
The moniker "Little Egypt" has woven itself into the fabric of society, pop culture, and laid the foundation for the creation of burlesque and strip tease which as famed dancer Gypsy Rose Lee explained is more about teasing than actual stripping. There are several songs and references to "Little Egypt" including a song by The Coasters which was covered by Elvis Presley and in the first vignette at Disney's Carousel of Progress ride the grandfather mentions a picture of her in his stereoscope. 
1896 Edison Films of Little Egypt are often identified as Djemille but may also be Spyropolous.
 (The white bars across her as she dances were an original form of film censorship)
The song "Streets of Cairo" both with and without lyrics are also associated with "Little Egypt" and parodies of exotic dances. It is also called the "Snake Charmer" song and "Poor Little Maid".