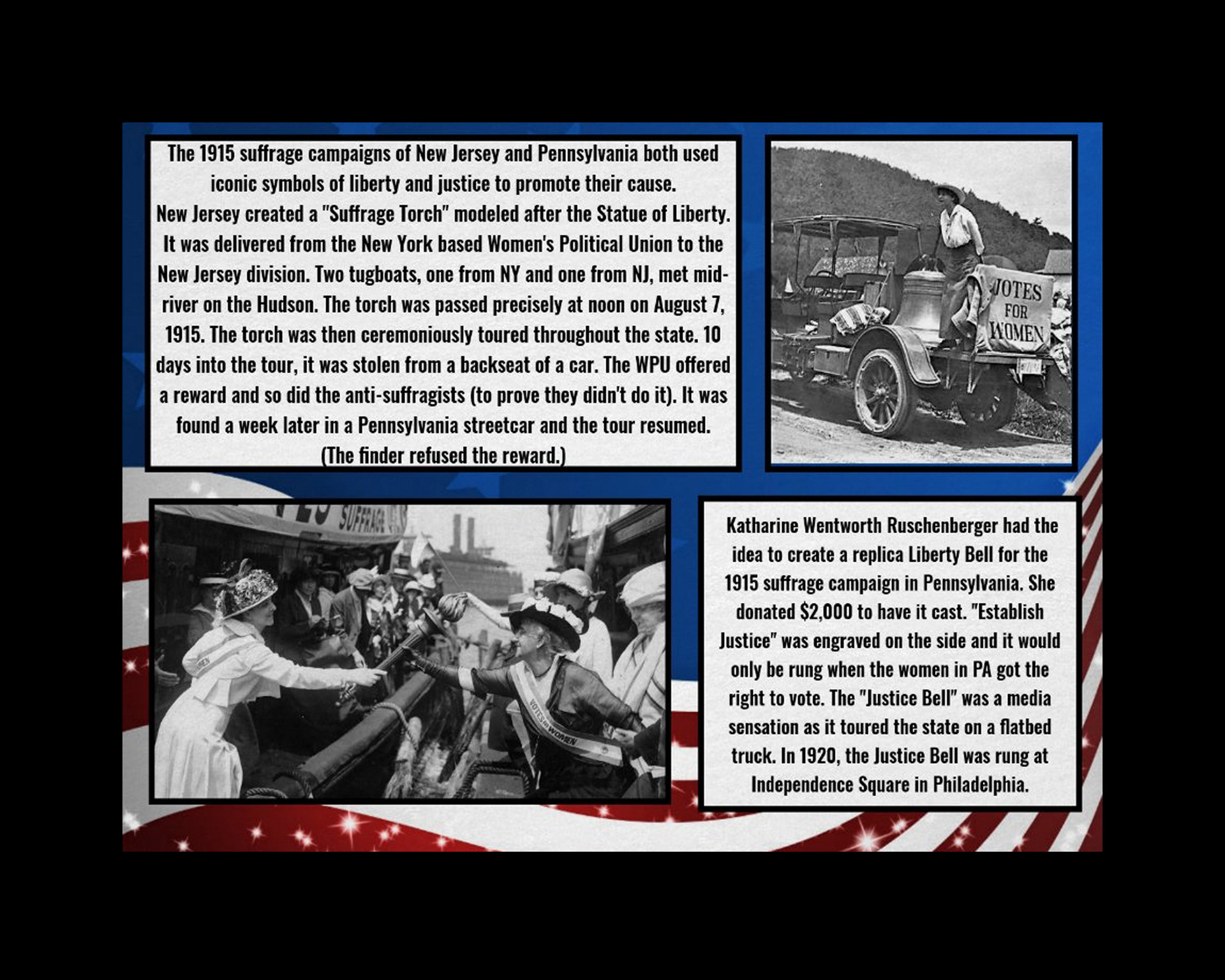 By 1915 all of the western states had passed suffrage. Bolstered by these victories, the northeastern states of Massachusetts, New Jersey, New York, and Pennsylvania created strong campaigns. 
Massachusetts was one of the early crucibles of suffrage. It had some of the earliest colleges for women (Episode 3), first women's unions in the textile mills (Episode 6), first official National Women's Rights Convention (Episode 12), and was the birthplace of  many suffrage leaders, but it was also home to the first anti-suffrage group. In 1882 the Massachusetts Association Opposed to the Further Extension of Suffrage to Women (MAOFESW) was founded by anti-suffrage women. By 1915, the MAOFESW had 37,000 female members. While often portrayed as upper class wives or fretting mothers fearful of social change, modern historians are finding that many antis were single, college-educated, socially active in their community and working outside of the home. 
Suffrage was linked to many divisive ideas such as socialism, workers rights, and unions. The antis wanted to be separate from these political leanings including the highly controversial ideas of free love and birth control. The suffragists argued that the vote was their right as citizens and taxpayers. Both sides campaigned heavily by giving speeches, publishing pamphlets, and holding meetings. On November 2, 1915, legislation for suffrage was once again defeated at the ballot box in Massachusetts.
New Jersey had also been a hotbed of suffrage activity. It has the distinction of having allowed any citizen of New Jersey (regardless of race or gender) to vote under their state constitution from 1776-1807 (Episode 2) as long as they had a certain level of wealth. Vineland, NJ was one of the most progressive cities in the country (Episode 22). Many top suffrage leaders were  politically active in the Garden State. In 1915 they were able to get suffrage on a statewide referendum scheduled for a vote in October. In order to promote suffrage before the vote, they created a publicity campaign that was centered around passing a "suffrage torch" throughout the state. 
The symbolically unlit torch was delivered on August 7, 1915 from the New York based Women's Political Union (Episode 53) to the New Jersey WPU division. Two tugboats, one from each state, met in the middle of the Hudson precisely at noon to make the hand-off and start the tour. Sadly the October vote ended in defeat. 48% of the male electorate voted against suffrage.
New York's suffrage organizations formed a coalition called the Empire State Campaign. It consisted of heavy hitters like Harriet Stanton Blatch's Women's Political Union (Episode 53) and Carrie Chapman Catt's Woman Suffrage Party (Episode 51) as well as numerous groups around the state. In order to garner support for their upcoming ballot initiative, from January through October there was a massive state-wide campaign of lectures, campaigns and rallies with the finale being the largest suffrage parade so far. On October 23th, 1915, over 34,000 marchers were led by Grand Marshal Ethel Stebbins on 5th Avenue. The lead banner stated "IMPORTANT / The Woman's Suffrage Amendment will be NUMBER 1 on a Special Ballot / Marked QUESTIONS SUBMITTED BALLOT."  It was not enough. Suffrage was defeated.
Pennsylvania's 1915 suffrage campaign also used a patriotic symbol to call attention to the cause. The "Justice Bell", a replica of the Liberty Bell, went on tour around the state. It's clapper was chained down to prevent it from ringing. It would only be rung when Pennsylvania women won the vote. Lectures and rallies were held statewide. Harlem Renaissance poet Alice Dunbar-Nelson was a top organizer in the Mid-Atlantic states and worked for five months straight during the 1915 Pennsylvania campaign. She often lectured several times a day to both African-American and mixed audiences. She kept a scrapbook during her travels which offers a rare glimpse into an African-American woman's experience of suffrage (more information in sources).  
The 1915 suffrage referendum in Pennsylvania was defeated at the ballot box. However when the 19th Amendment passed in 1919, the "Justice Bell" went on tour again. This time it travelled to many states in support of ratification. It finally was rung in August of 1920 at a ceremony held on Independence Square, Philadelphia. 
#SuffragetteCity100 #SufferingForSuffrage
Alice Dunbar-Nelsons scrapbook