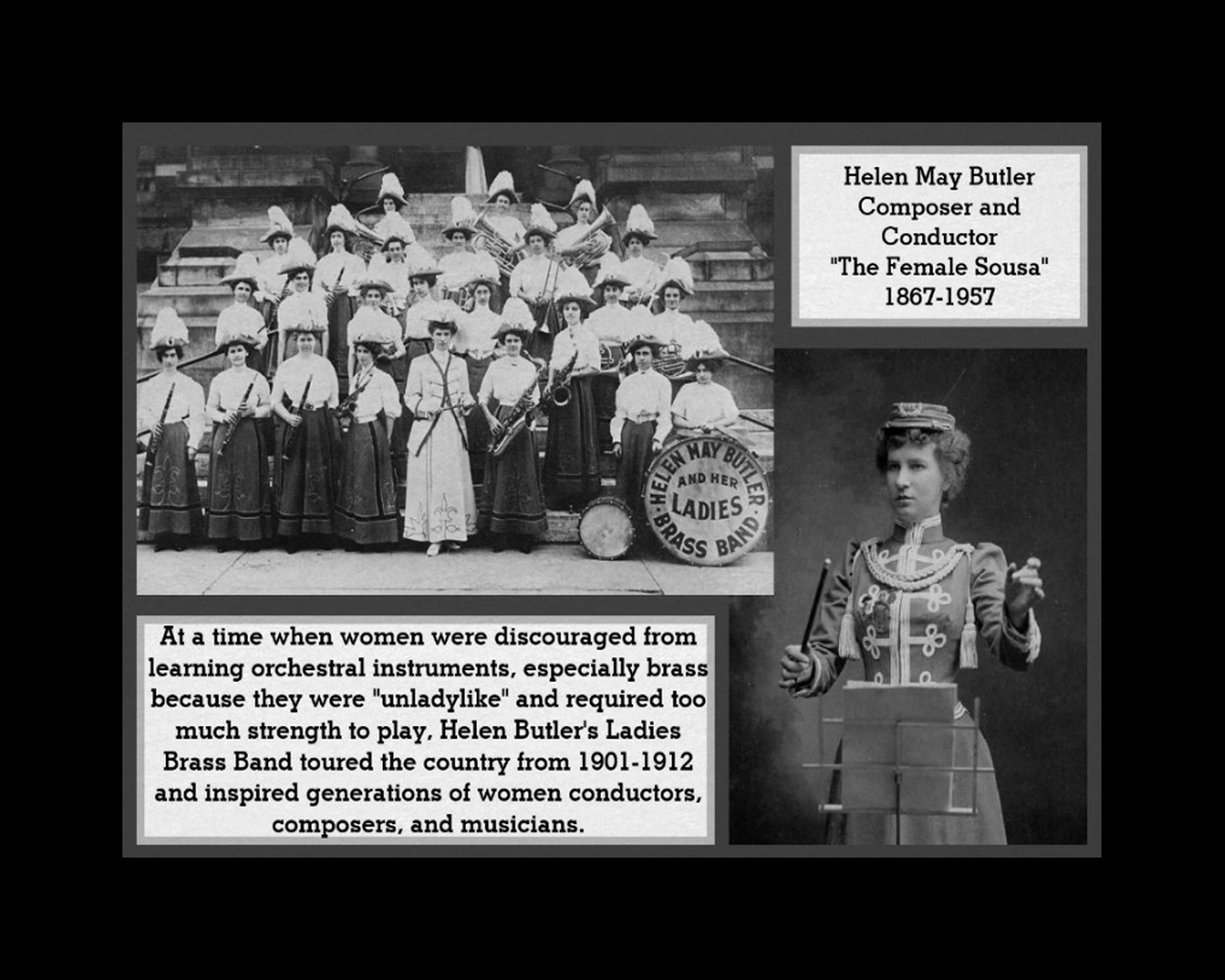 Helen May Butler (1867-1957), also known as Helen May Spahn and Helen May Young, was a musician, composer, and conductor who led an all-women brass band at a time when women were discouraged from playing such "unladylike" instruments. Butler was often called the "female Sousa" (after famed composer John Phillips Sousa), and her band was a personal favorite of Teddy Roosevelt.
Born into a musical family, Butler began violin at an early age. She was so musically gifted that despite being a woman, she was taken on as a student by Bernard Listerman, the concert master of the Boston Symphony. She encouraged other women to learn to play instruments and at 25 she started her first all woman band, the Talma Ladies Orchestra, who were successful enough to purchase their own theater.
Butler became interested in brass instruments but no one wanted to teach brass to a woman. Her father, who had always supported her musical career, finally managed to get none other than D.W. Reeves, one of the best cornetists in the country to teach her cornet. She went on to not only master it but taught enough women to play that she was able to assemble an all ladies brass band. Dressed in military uniforms, Helen May Butler and Her Ladies' Brass Band, toured the country. She didn't consider herself an activist and wasn't officially part of the suffrage movement but she inspired thousands of women to become musicians and opened the doors for women to have careers in music.
In 1904 she was commissioned to write an anthem for the Republican Convention. (The Republicans were the liberal and progressive party during this time period including favoring big government, taxes, social safety nets, and leaning towards women's rights.) Her famous "Cosmopolitan America" march was played by bands all across the country and people bought the sheet music to play it on their pianos at home.
She married her band manager, J. Leslie Spahn and they had two children before they divorced in 1911. Trying to balance career and family, Butler and Spahn traveled with their first child but when the second was born, they left them in the loving care of a friend and Spahn arranged the tours so that they could see the children as often as possible. When Butler stopped touring in 1914, she settled down with her second husband, Jay Herbert Young, in Cincinnati, Ohio, and was able to raise the children from her first marriage. She continued to play and teach music. She even ran for political office not expecting to win but just to make it easier for the next woman.
One of her greatest honors happened while attending a John Phillips Sousa concert held at the Cincinnati Zoo. His band manager recognized her and arranged for her to meet her idol. John Phillip Sousa not only expressed admiration for her work but allowed her to conduct his signature piece "Semper Fidelis" during the concert. 
In 1995 she was inducted into the Women Band Directors International Hall of Fame. Her uniforms, sheet music, and other memorabilia are on display at the Smithsonian in Washington D.C.
For more all women bands: