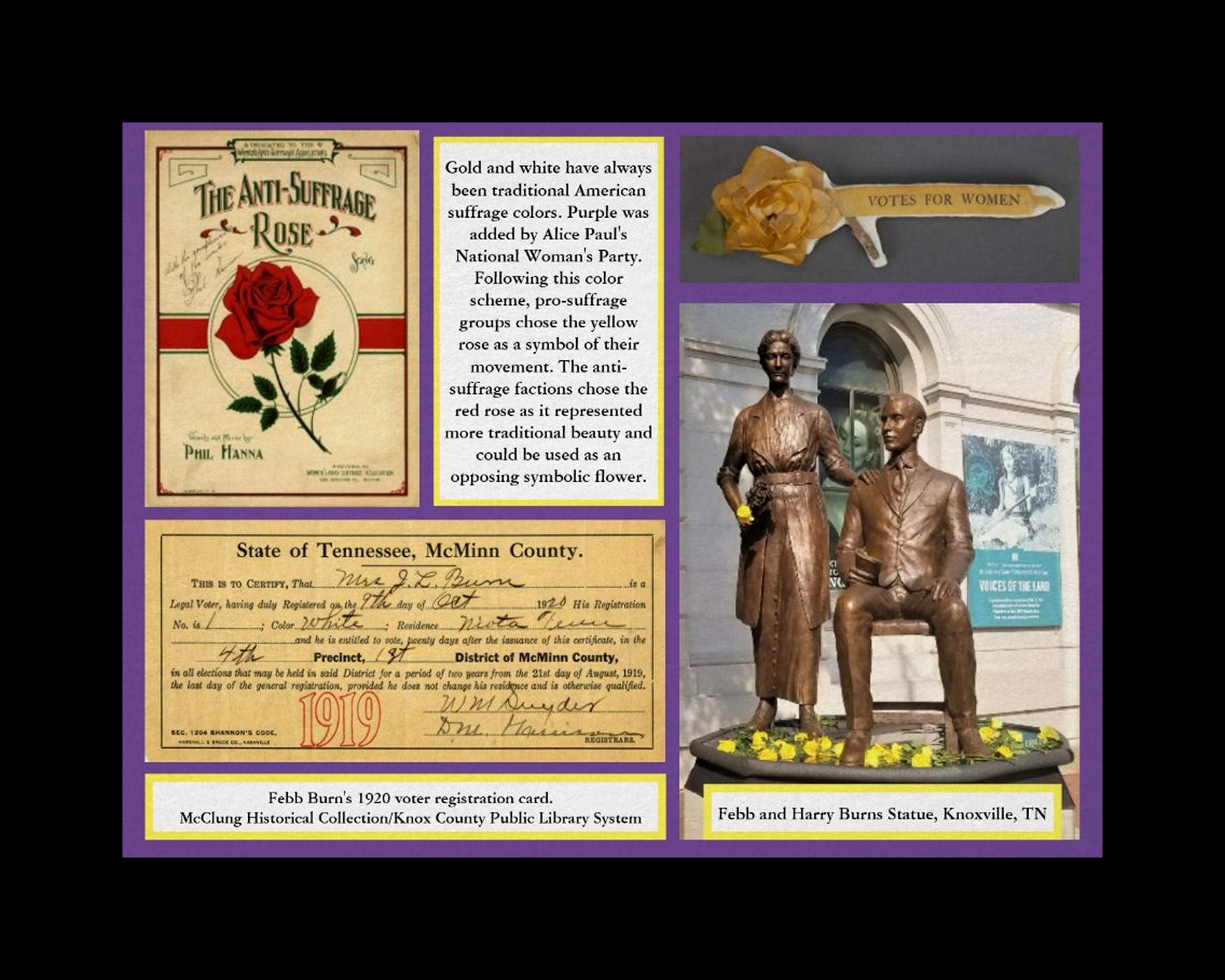 A lot of books, websites, and news media have covered the amazing story of Tennessee's ratification of the 19th Amendment. This is the condensed version. By June of 1920, the 19th Amendment had 35 of the necessary 36 states needed to be ratified (episode 82 covers the other 35). Fierce lobbying is done from both pro-suffrage groups and anti-suffrage groups most of whom were all staying at the same hotel, the luxurious Hermitage Hotel in Nashville, TN. There are bribes, backroom deals, big money influencers, fist fights, and lots of flip-flopping by politicians over a long hot summer. The governor, Albert H. Roberts, is reluctant to call a vote on ratification but finally calls Tennessee General Assembly into session. From the founding of America as a democracy to this emergency scheduled vote, the 144 year fight for an amendment preventing voter discrimation on the basis of sex hung in the balance as the Tennesse legislature came to order on August 18, 1920. 
Legislators wore roses pinned to their lapels to signify their stance on suffrage: red roses were voting anti-suffrage and yellow roses were voting pro-suffrage. By a slim majority there were more red roses. Suffragists were resigned to probable defeat. Harry T. Burns wore a red rose thinking that his vote wouldn't change things. In fact, he even voted with the antis in favor of tabling the issue and not taking the vote, essentially kicking the can down the road for some other state. Fortunately, suffrage did get voted on that day. By the time it got to him, it was a 48:48 tie (Banks Turner had abstained from his vote.) When Burns realized that his vote would make a difference, he had to make a moral choice. In his breast pocket, just below his red anti-suffrage rose, he was carrying a letter from his mother, Phoebe "Febb" Burns, a college educated widow who was a fiercely independent farmer and suffragist. Here is an excerpt from that letter: 
"Dear Son, ... Hurray and vote for Suffrage and don't keep them in doubt. I noticed Chandlers' speech, it was very bitter. I've been waiting to see how you stood but have not seen anything yet.... Don't forget to be a good boy and help Mrs. Catt with her "Rats." Is she the one that put rat in ratification, Ha! No more from mama this time. With lots of love, Mama." 
He quietly voted "aye" in favor of ratification and the room erupted with both cheers and boos. It was 49:48 in favor and just to seal the deal, legislator Banks Turner asked to change his vote from abstaining to "aye" making the final tally 50:48 The 19th Amendment was ratified! 
The next day Burns was quoted as saying "I knew that a mother's advice is always safest for a boy to follow, and my mother wanted me to vote for ratification". On October 9, 1920, Febb Burns registered to vote in McMinn County.
It's a compilation of some of the best goals in women's soccer set to electronic music because it took teams of women working together to get the passage of the 19th Amendment. GOOOOAAAALLLL!!!!!  
#SuffragetteCity100 #SufferingForSuffrage