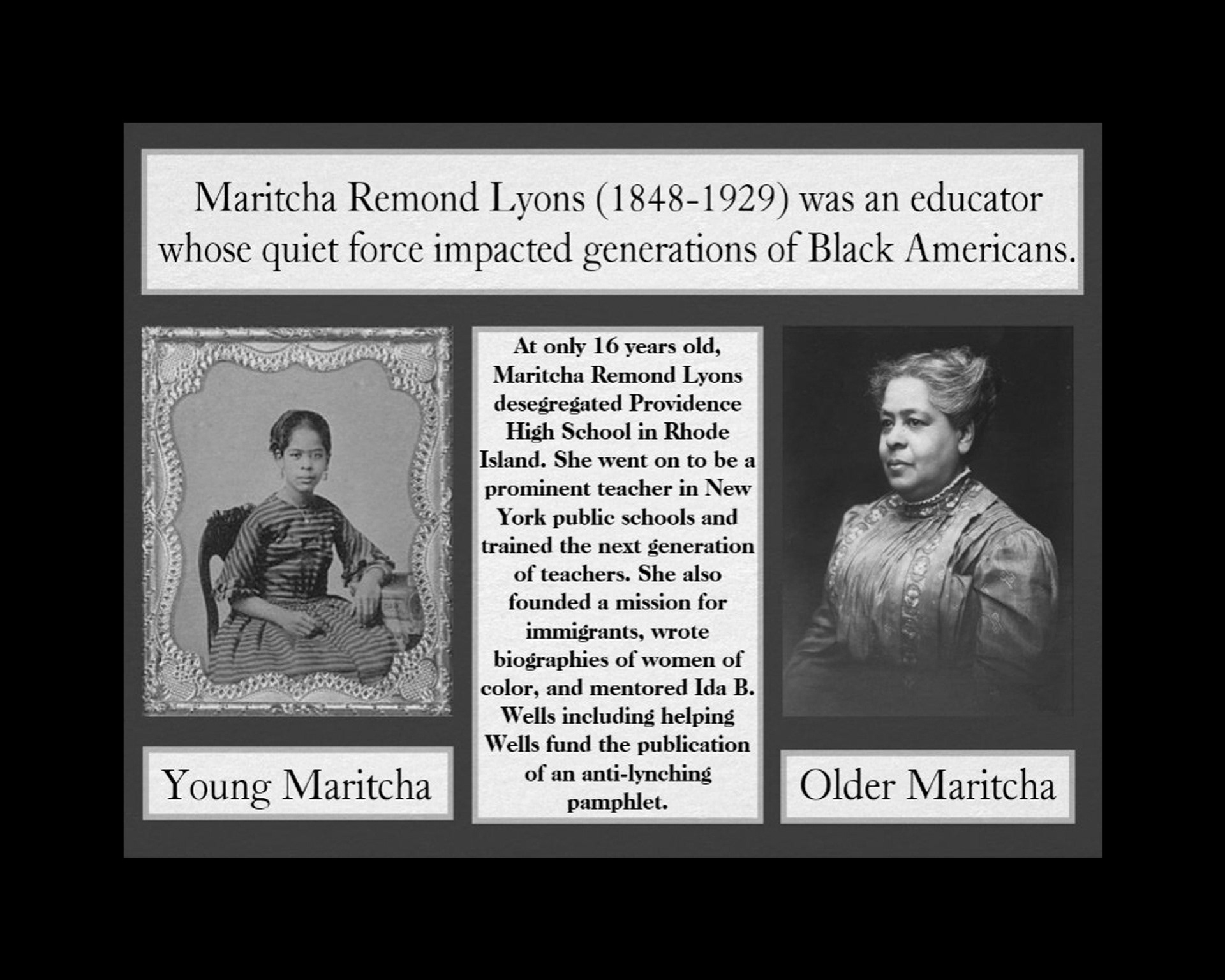 Maritcha Remond Lyons (1848-1929) is not a big name but should be. She was a mentor to Ida B. Wells by helping her improve her debate skills and introducing Wells to her network of connections. With the help of fellow activist Victoria Earle Mathews, Lyon assisted Wells in planning her anti-lynching speech at New York City's Lyric Hall. The event was a great success and Wells made enough money to publish her pamphlet, "Southern Horrors: Lynch Law In All Its Phases". As impressive as it is to have given Ida B. Wells a career boost, Maritcha Remond Lyons has her own life story which made impactful contributions on improving the lives of Blacks and women of color. 
Born in New York City to a free Black family, she and her siblings were sent to Rhode Island to avoid the draft riots that were happening during the Civil War. Providence High School refused to admit her because of her race. With the help of well-known Black abolitionist George T. Downing, she testified before the RI state legislature and desegregated the school. In 1869, Lyons became the first Black person to graduate from Providence High School.
After graduation, Lyons moved back to New York and was an educator for 48 years including training Black teachers for the various school districts. During this time she continued her own education in languages, music, and rhetoric. Lyons founded the White Rose Mission for immigrants from the West Indies and the American South and used her speaking skills to promote civil rights. After she bested Ida B. Wells during a debate, she coached Wells to become a more powerful speaker. When Black author, educator and suffragist, Hallie Quinn Brown (1850-1949) wanted to create a book about notable women of color, Mariticha wrote 8 of the biographies. The book, "Homespun Heroines and Other Women of Distinction", was published in 1926. Maritcha never married or had children; her legacy quietly faded after she passed away in 1929.
There is only one book written about Maritcha Remond Lyons. It is a children's book based on her unpublished memoir: "Maritcha: A Nineteenth-Century American Girl" by Tonya Bolden published in 2015.
Biography of author Hallie Quinn Brown: