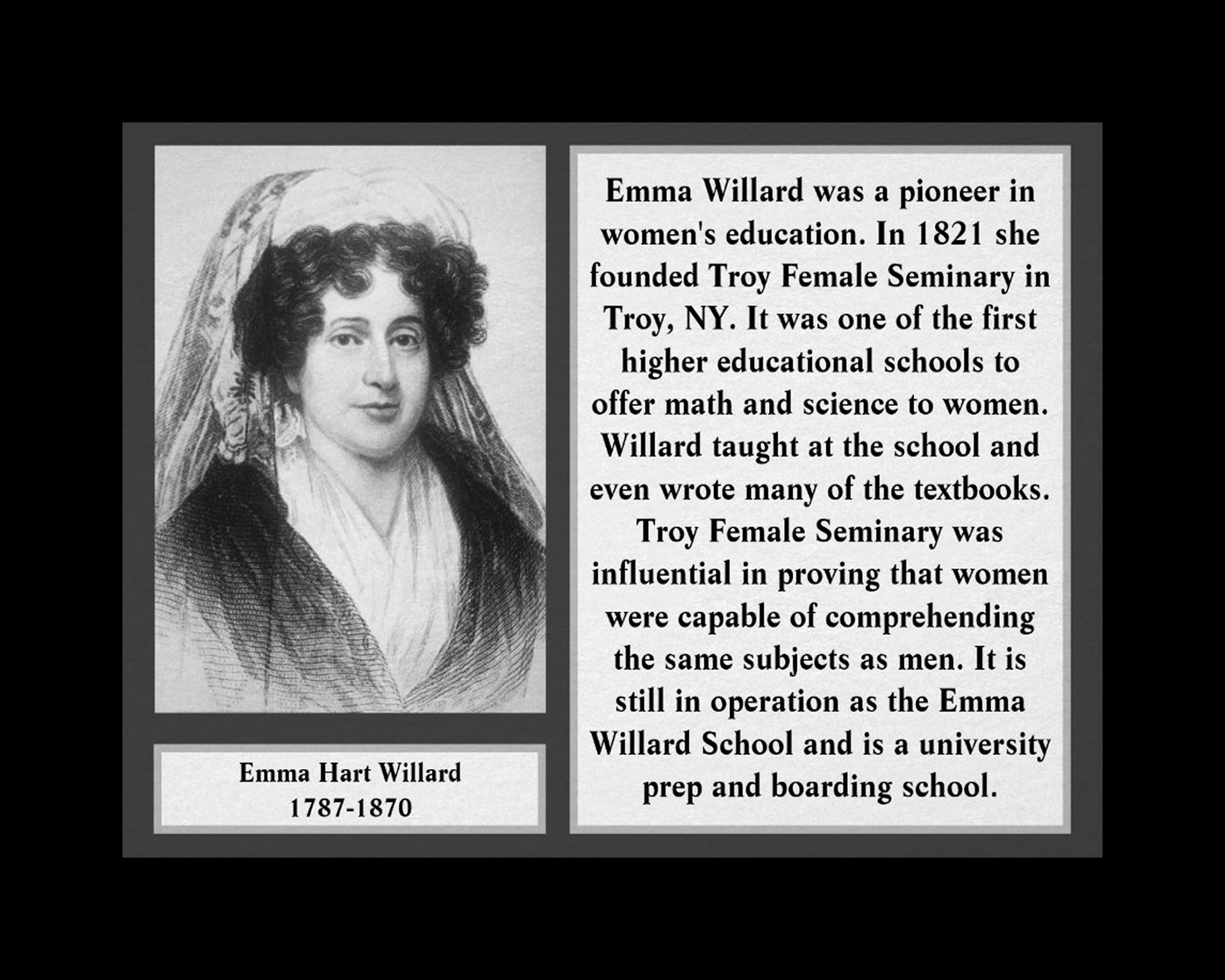 ​​​​​​​
Emma Hart Willard was 15 when she had her first formal schooling. She was such an avid learner that she was teaching at the school by 17 and at 20 was in charge of the academy for a semester. At 22 years old she went on to be a principal at a girl's school in Middlebury, Vermont, where she met and married her husband, John Willard, a physician who was 28 years older.
She saw the large gap between women's education and men's education. At that time girls were generally not taught math or sciences. Most schooling for girls focused on the softer arts. In 1814 she opened Middlebury Female Seminary in her home which included math and science as part of the curriculum. In 1819 she wrote a pamphlet called "An Address to the Public; Particularly to the Members of the Legislature of New-York, Proposing a Plan for Improving Female Education" which was read by such notables as John Adams and Thomas Jefferson but equally rigorous education for women was still considered a fringe idea. 
Upon reading her pamphlet, Governor DeWitt Clinton, invited her to open a school in New York state. In 1819 she started a school in Waterford, NY. The town council of Troy, NY, raised funds for her to open a school there so she moved there and founded Troy Female Seminary in 1821. It was a pioneering school in women's education and opened up the path for more schools for women. Sixteen years later, Mary Lyons would open Mount Holyoke Female Seminary in 1837 which was the first higher educational institution that had a rigorous academic course of study fully equal to the education a man would get at college. 
Troy Female Seminary is still in operation as the Emma Willard School. Because higher education has evolved, it is now a university prep and boarding school.