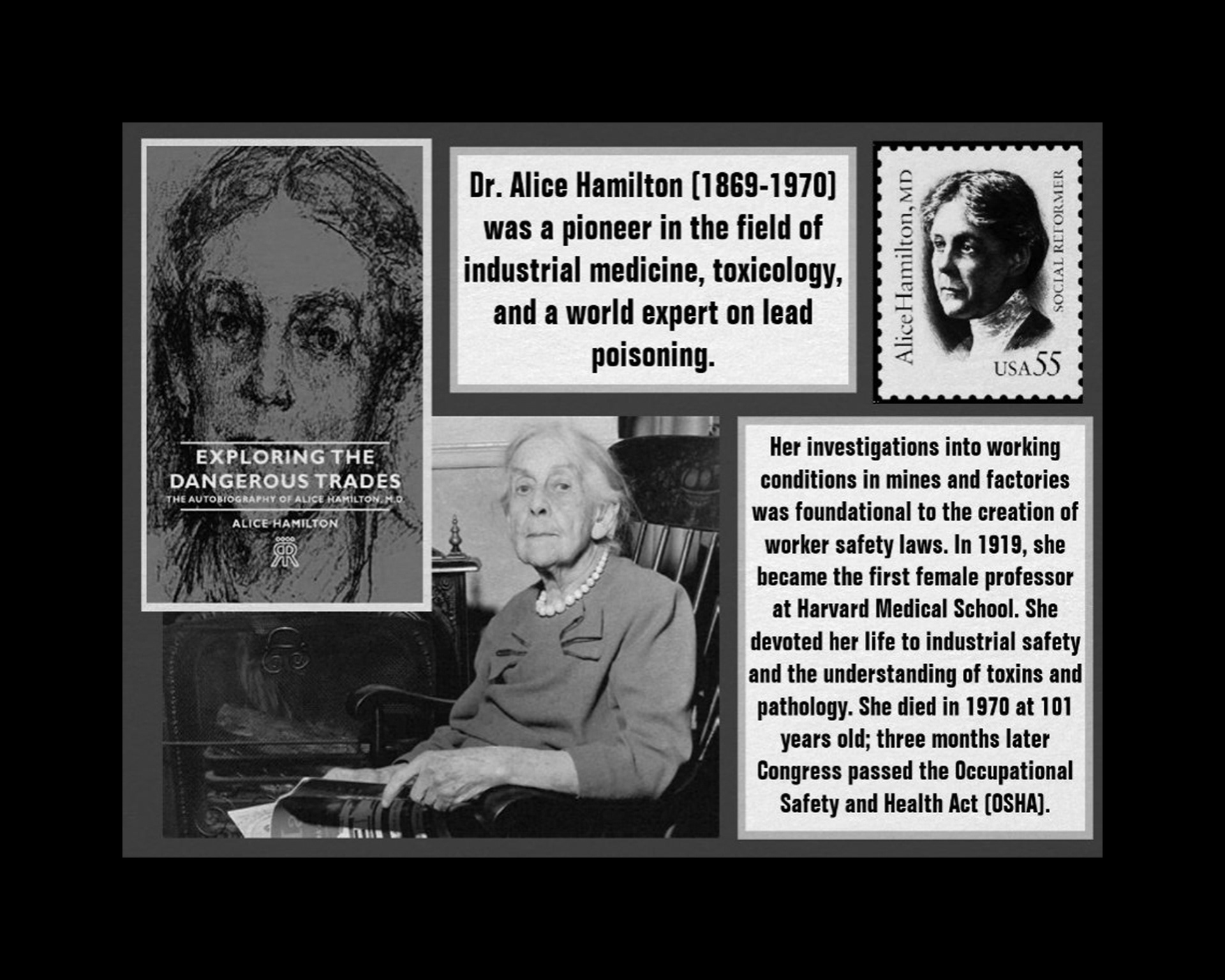 Dr. Alice Hamilton (1869-1970) earned her original medical degree at the University of Michigan Medical School in 1893. She interned at both the Minneapolis Hospital for Women and Children and the New England Hospital for Women and Children. She continued her studies at two prestigious universities in Germany (Munich and Leipzig), then returned to America to do postdoctoral work at Johns Hopkins University Medical School. In 1897, she moved to Chicago, Illinois, to become a professor of pathology at the Woman's Medical School of Northwestern University.
In Chicago, she became an active member and resident of Hull House, a settlement house founded by Jane Addams (Episode 36). As a resident physician at Hull House, Hamilton dealt with a mostly poor and immigrant working-class population. She became increasingly interested in the effects that exposure to chemicals and factory conditions had on the health of industrial workers. It was a relatively new field in Europe; no one in the United States was researching it. In 1908 she wrote the very first article on industrial medicine in America. By 1910, she was head of the newly created Occupational Diseases Commission of Illinois.
Hamilton became a leader in the field of toxicology (especially lead poisoning). She was able to get access to working conditions in mines and found ways to be able to investigate what chemicals and toxins workers were actually exposed to on a regular basis. 
In 1919, she became an assistant professor at Harvard University in their new Department of Industrial Medicine at Harvard Medical School. Her appointment was touted by "The New York Tribune" with a bold headline that read "A Woman on Harvard Faculty—The Last Citadel Has Fallen—The Sex Has Come Into Its Own." Despite the optimistic headline, Hamilton still faced sexism and was not allowed to attend many social activities at the University including the all-male graduation processions. 
After she retired from Harvard in 1935, she became a medical consultant to the U. S. Division of Labor Standards. She was asked to create a nationwide survey of illness caused by exposure to industrial poisons specifically the use of lead in manufacturing. She received little government backing and no salary. However, the government agreed to buy her final report. Her survey was foundational to understanding lead poisoning. Her autobiography "Exploring the Dangerous Trades" was published in 1943. She died in 1970 at age 101; three months later Congress passed the Occupational Safety and Health Act (OSHA).
Bonus: While at Johns Hopkins, Hamilton studied with pathologist Simon Flexner. His niece, Elenor Flexner, is the author of the book "Century of Struggle: The Women's Rights Movement in the United States".