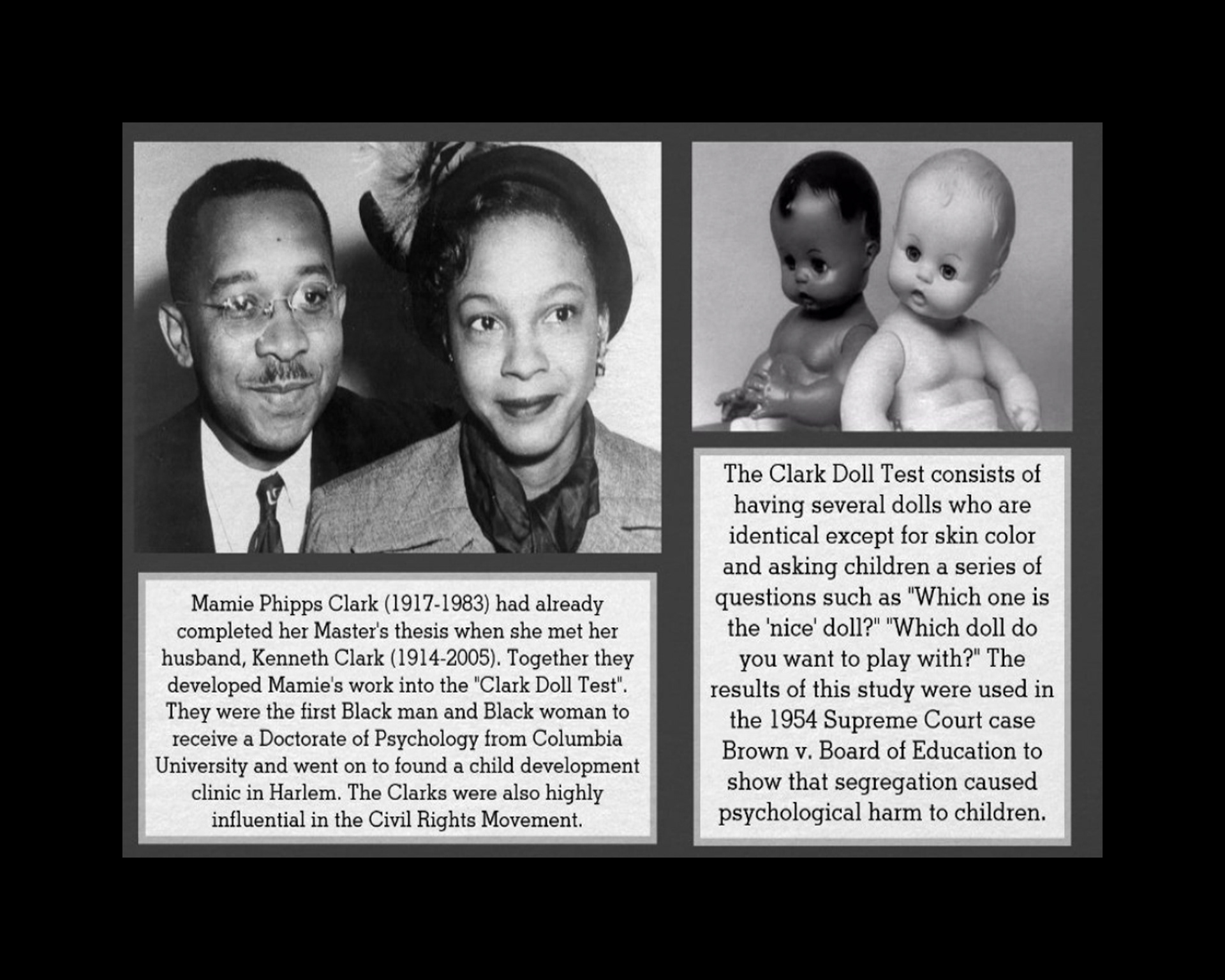 ​​​​​​​
Mamie Phipps Clark (1917-1983) attended Howard University. Her master's thesis was "The Development of Consciousness of Self in Negro Pre-School Children". She met her husband Kenneth Clark (1914-2005), also a Howard University graduate, and he became her partner in developing the thesis even further. 
The Clarks became the first Black man and Black woman to earn a Doctorate of Psychology from Columbia University. They opened the Northside Center for Child Development, the first full-time child guidance center in Harlem in 1946. It took a holistic approach and offered not only psychological services but assistance with housing, vocational guidance for teens, and child rearing education for Black parents. 
Working as a team, the Clarks developed Mamie's ideas into the Clark Doll Test which became instrumental in showing the psychological damage and racial bias that comes from segregation. The Clarks testified as expert witnesses in several Supreme Court civil rights cases including Brown v. Board of Education. Chief Justice Warren Harding wrote that the overwhelming evidence from the Clark Doll Test and the expert testimony of the Clarks showed that segregation created "a feeling of inferiority as to their status in the community that may affect their hearts and minds in a way unlikely to ever be undone".
Kenneth Clark went on to become the first Black president of the American Psychological Association, the first Black full tenured professor at the City College of New York, and the first Black appointed to the New York State Board of Regents. Mamie Phipps Clark continued to be active in the community including being on the board of the New York Public Library, the Museum of Modern Art, the New York Mission Society, the Phelps Stokes Fund, and the Teachers College at Columbia University. She and her husband were active in the Civil Rights Movement. They had two children together and enjoyed a long and happy marriage until Mamie's death in 1983.
The original dolls were given away and used as playthings. However, one of the original dolls, the Black one, was able to be located and authenticated. Slightly discolored from sun damage and missing the original diaper, it is now on display at the Brown v. Board of Education National Park in Topeka, Kansas. The Clark Doll Test is still being used today. 
Here is a 2010 CNN report on how children perceive race using the Clark Doll Test.