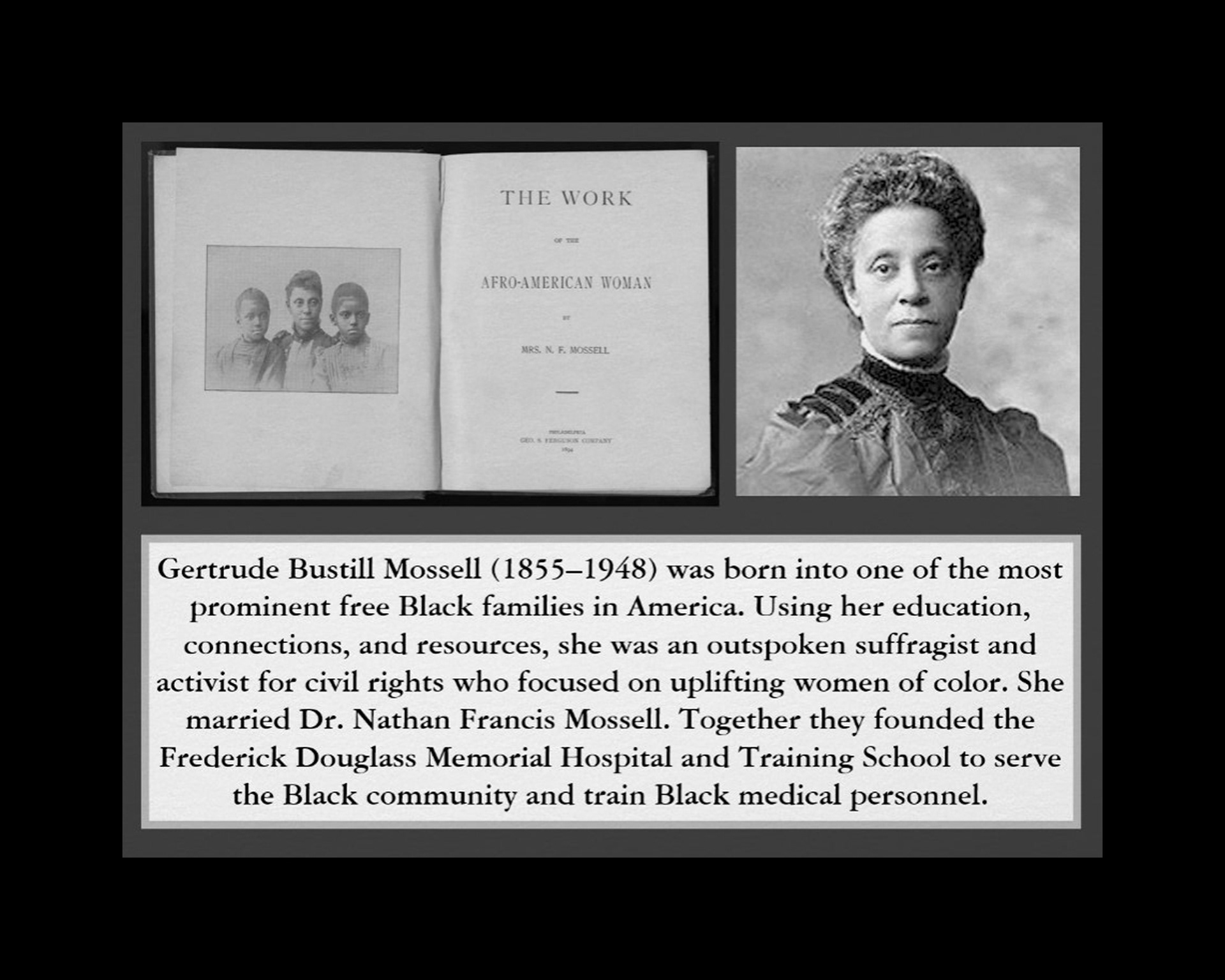 Gertrude Bustill Mossell (1855-1948) was born into a family of free Black elites in Philadelphia. The Bustill family had been free since her great grandfather, Cyrus Bustill, bought his freedom and worked as baker for the troops during the War for Independence. Gertrude Bustill was well educated and had many examples of outspoken women within her own family while growing up. She went on to become an educator, author, journalist, and activist for civil rights and Black feminism. 
After marrying prominent doctor Nathan Francis Mossell, Gertrude was forced to give up her teaching career. (At that time, married women were not allowed to be teachers in public schools.) However, she continued to work as a journalist and author. She published her first book "The Work of the Afro-American Woman" in 1894. This book contains not only biographies of thousands of Black women across all fields of study and work but also a collection of essays and poems from the voices of Black women during this time period. Never afraid to speak her own mind, she used an entire chapter of her book to criticize Black universities for not hiring enough of their own graduates and for not employing more Black professors to teach classes.  
Gertrude does have a biography in her book under the name Mrs. N. F. Mossell. She added "Mrs." to her husband's name because it was the convention of the time for a woman to be referred to in relation to her husband rather than her own individual persona.
She and her husband went on to open a hospital that served the Black community. The Frederick Douglass Memorial Hospital and Training School also had an academic program to train Black women as nurses. Gertrude Bustill Mossell passed away in 1948 in the hospital that she and her husband built. 
Bonus: Gertrude's husband, Nathan Francis Mossell, has his own remarkable story. He was the first Black man to earn a medical degree from the University of Pennsylvania and went on to do great work within the fields of medicine and civil rights.
Cyrus Bustill is the patriarch of the Robeson-Bustill family lineage whose descendants include legendary singer Paul Robeson; portrait artist and flag designer David Bustill Bowser; educator and writer Sarah Mapps Douglass; and artist and activist Robert Douglass Jr. https://en.wikipedia.org/wiki/Cyrus_Bustill