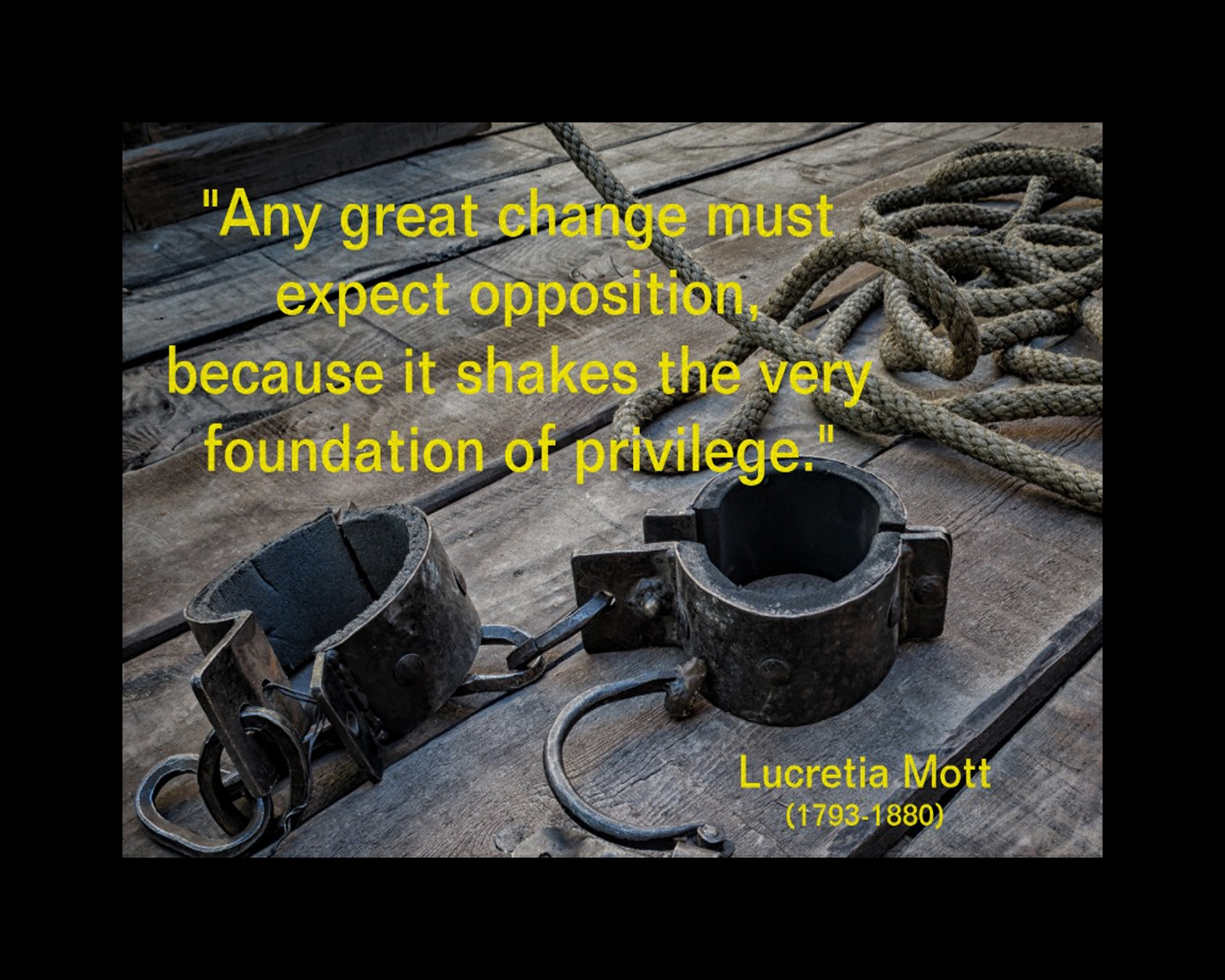 ​​​​​​​
It was quite an honor for Lucretia Mott to be named as a delegate representing Pennsylvania to attend The World Anti-Slavery Convention. Held in London in 1840, it was a veritable who's who of the major leaders in abolition movements.
However, John Bull and the other organizers of the convention had not expected women to be delegates. Mott was told she could not participate despite the fact that she was a well-known skilled orator and abolitionist leader who traveled from Philadelphia to London as a full delegate. She was not the only one. While the American delegation was mostly male, there was a total of eight women representatives among them: Lucretia Mott, Sarah Pugh, Abby Kimber, Elizabeth Neal, Mary Grew, Ann Green Phillips, Emily Winslow, and Abby Southwick. Despite their qualifications, none of the ladies were allowed to be active in the proceedings. It did not help that several American clergymen, who got there a few days earlier, had made their arrival even more unwelcome by sowing seeds of criticism about them before the women even got there. Despite being a convention about such a noble cause as anti-slavery, the atmosphere was openly hostile to them. 
When the proceedings opened, none other than Wendell Phillips, noted champion of many causes that fought for human rights including those of Native Americans, made a motion to include the female delegates. The debate raged for hours, ending with the majority granting the most meager of allowances. The women could sit behind a curtain and listen but not actively participate. William Lloyd Garrison, prominent abolitionist leader and strong suffrage supporter, sat with the ladies in protest.
Despite the disappointing outcome of the unexpected debate over women delegates, this motion began serious discussion amongst powerful people about the status of women in a democracy. The first evening was electric with private conversations on the emancipation of women. 
It was at the World Anti-Slavery Convention that Lucretia Mott met non-delegate Elizabeth Cady Stanton. Stanton's husband was a delegate (who voted in favor of women participating) and Elizabeth was traveling with him. From the start, it was a strong alliance. Their fortuitous meeting is often considered the true start of the suffrage movement in both America and England. 
#SuffragetteCity100 #SufferingForSuffrage