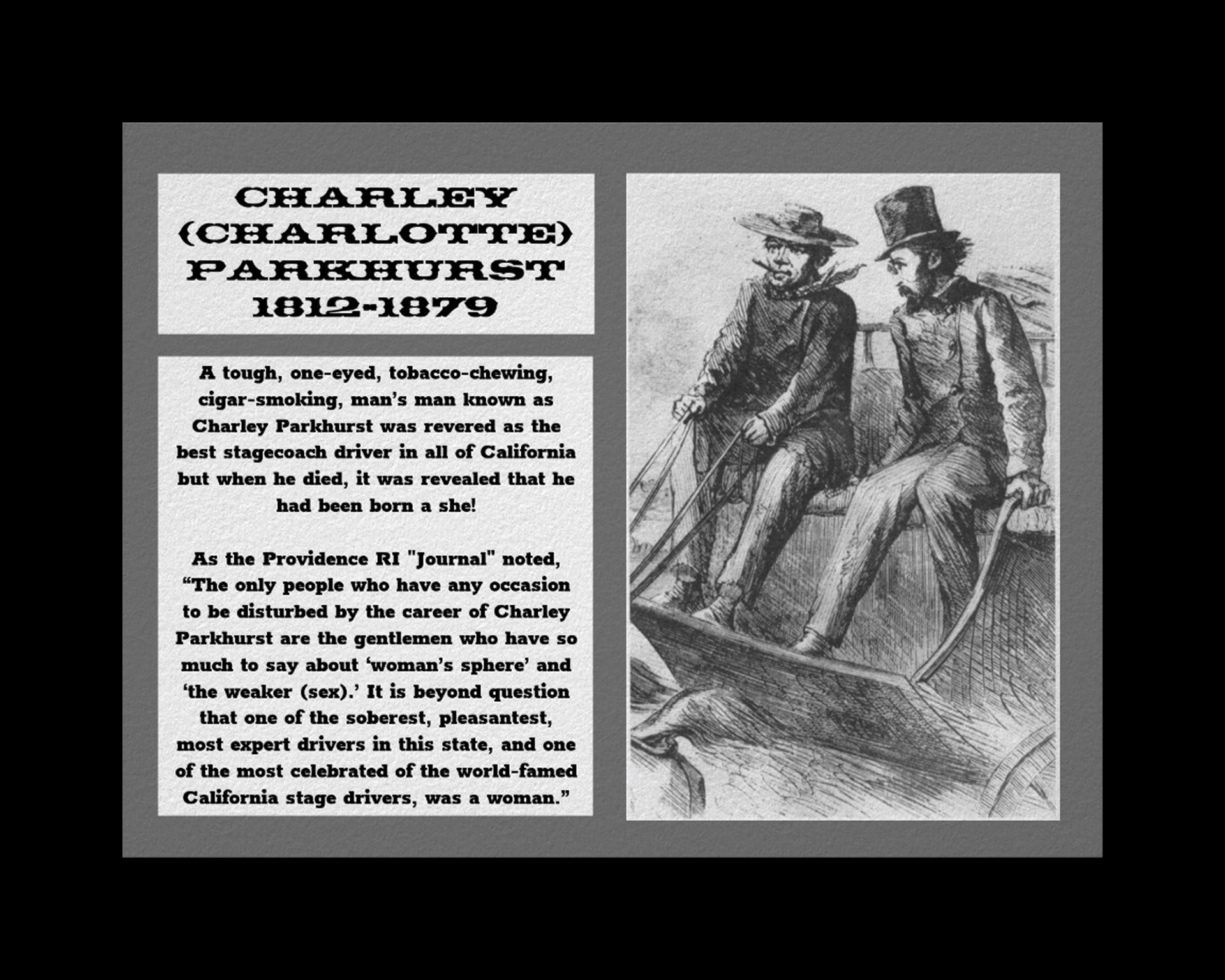 #WCW Charley Parkhurst, 1812-1879, Legendary Stagecoach Driver
A tough, one-eyed, tobacco-chewing, cigar-smoking, man's man known as Charley Parkhurst was called the best stagecoach driver in all of California but when he died, it was revealed that he had been born a she! 
As the Providence RI "Journal" noted, "The only people who have any occasion to be disturbed by the career of Charley Parkhurst are the gentlemen who have so much to say about 'woman's sphere' and 'the weaker (sex).' It is beyond question that one of the soberest, pleasantest, most expert drivers in this state, and one of the most celebrated of the world-famed California stage drivers, was a woman." 
(Charley choose to identify as a man, and all sources refer to Charley as "he," so masculine pronouns will be used for this #WCW)  After Charlotte Darkey Parkhurst was placed in an orphanage, he stole some boys clothes and ran away. He became a stable hand in Massachusetts, and quickly learned to be an excellent driver. Known for his pleasant manner and expert skills, he and some friends decided to head west to the California Gold Rush.
Over his 30 years driving stagecoach, he saw the original rough and bumpy dirt trails turn into formal roadways and watched whole cities spring up as California grew. Charley also voted in California elections so he is technically also the first woman in America to vote in the 1868 presidential election. Eventually the railroads eliminated most of the stagecoach work and he retired to a small cabin in Moss Ranch in California owned by the Harman family. During the last years of his life, he kept telling the Harman family that he wanted to tell them something but lost the ability to speak from throat cancer before he could do it. It was only after his death in 1879, that his original birth gender was revealed. Regardless of why Charley choose to live a life as a man, the one thing everyone can agree upon is that "Six-horse Charley" was a damn good driver.