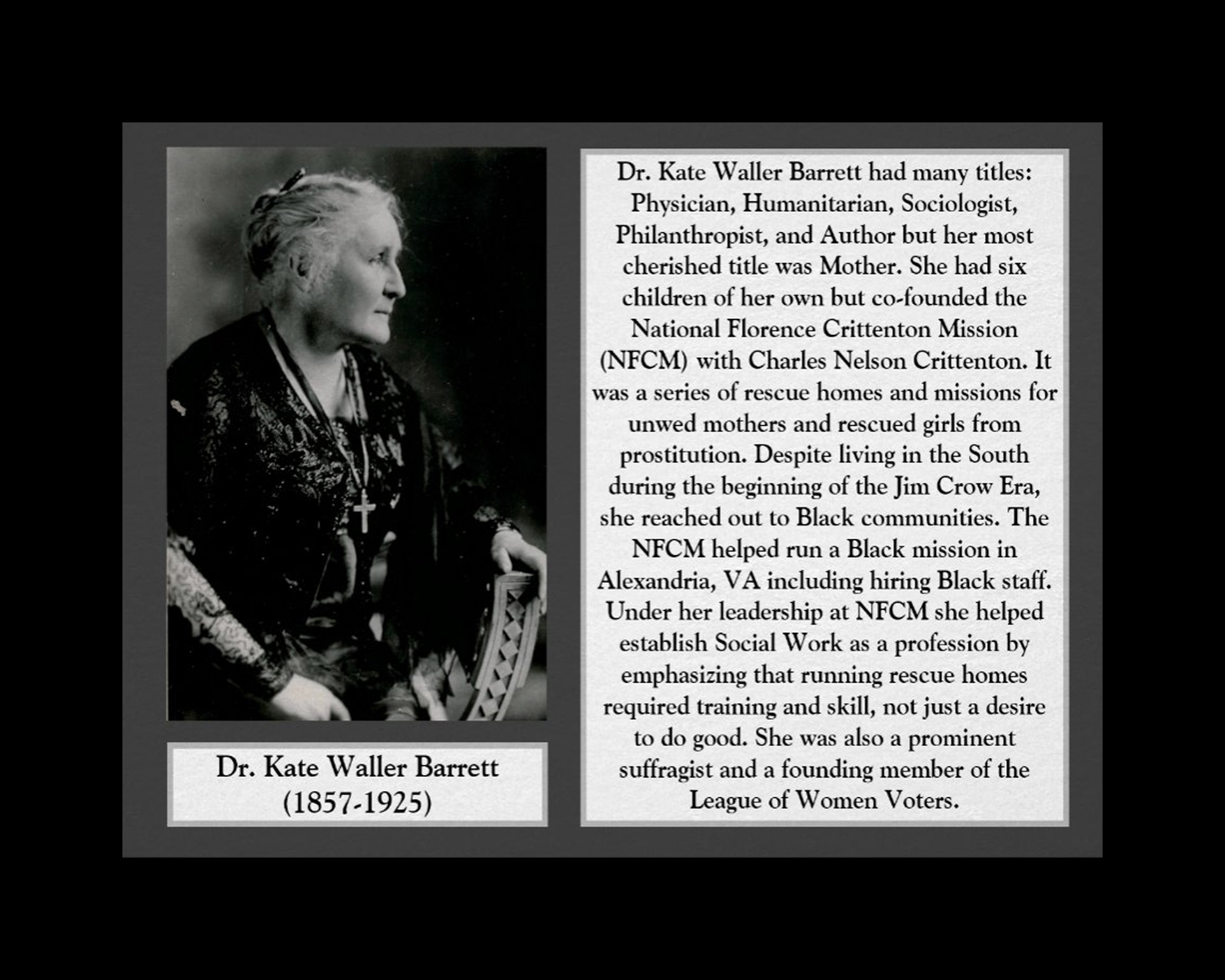 Kate Waller Barrett (1857-1925) valued motherhood, education, and social reform. During her lifetime, she was one of the most prominent women in America.
 In 1878, 21-year-old Kate was at home with her husband when someone knocked on the door. It  was an unwed mother with a small child. They were in desperate need of help. The Barretts invited them in and gave them food and clothing. From that chance encounter, Kate Waller Barrett was changed forever. She dedicated her life to helping unwed mothers and rescuing women from being trafficked as prostitutes. She and her husband opened a small rescue mission in Henderson, Kentucky and later a home for unwed mothers in Atlanta, Georgia. The rescue home in Atlanta faced backlash from church and city officials. It had to move to four different locations because of city ordinances.
Barrett worked tirelessly at the rescue home despite having six children of her own to look after. With her husband's encouragement, she completed a medical degree from the Women's College of Georgia in 1892 and a nursing degree at the Florence Nightingale Training School in London in 1894. 
Barrett reached out to New York philanthropist Charles Nelson Crittenton who had a successful rescue home. In 1896, they teamed up to create the National Florence Crittenton Mission (NFCM) in order to open up more homes. That same year her husband died. Widowed at 39 years old and now a single mother of six children, she still continued to dedicate herself to rescuing girls and helping women including opening maternity hospitals (with mostly female staff) as part of the Florence Crittenton homes. As the president of an organized and professionally run system of rescue homes, Barrett established the criteria that it takes skill and knowledge to open up rescue homes, not just the desire to do good works. This reinforced the idea that Social Work needed to be a legitimate profession which required training and adherence to a code of professional standards.
Despite being from a slave-holding family and living in the South during the Jim Crow era, Barrett reached out to Black communities. Under her leadership the NFCM helped run a Black mission in Alexandria, Virginia and hired Blacks as staff. She also helped pay off the mortgage for the Topeka Home (colored) so that it could join the National Florence Crittenton Mission organization.  
Barret valued motherhood as the ultimate feminine ideal and emphasized spiritual rebirth through child-rearing and domestic life, but she was also a strong suffragist. In 1909 she founded the Equal Suffrage League of Virginia and was a founding member of the League of Women Voters. She was president of the National Council of Women  and the American Legion Auxiliary. She was involved with the National Prison Association, the National Congress of Mothers, member of the National Daughters of the American Revolution (NDAR), and was on the board of the College of William and Mary. She wrote several books on social reform and created job training programs for women to be more self-sufficient. 
Florence Crittenton Centers still exist. Even though society has become more accepting of single moms (as they are now called), young unwed mothers are still shunned and shamed especially if they are poor. The Florence Crittenton Centers are actively offering support systems to help take care of the children and young mothers. Girls can finish their education, have parenting classes, and receive job training so that both mother and child can become valued members of society.