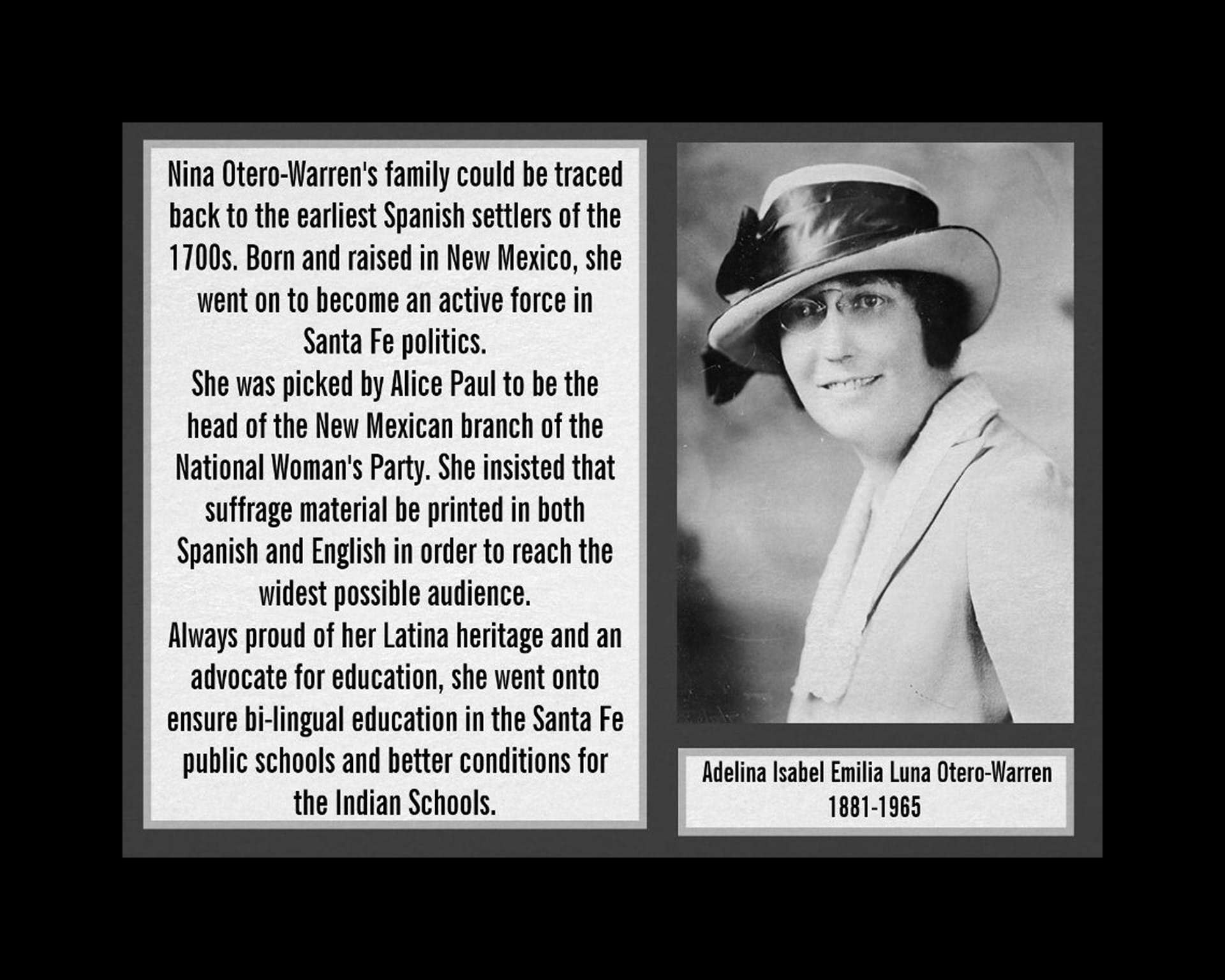 Adelina "Nina" Isabel Emilia Luna Otero was born in 1881 to a wealthy and politically connected family in New Mexico. Her Latina heritage could be traced back to the earliest Spanish settlers in the area dating back to the 1700s. During the 1880s Anglos (whites) began moving into the New Mexico territory displacing the Mexican, Spanish, and Native Americans.  Otero's father was shot and killed by Anglos squatting on their family land. Her Latina mother later remarried an Anglo man of  English/Italian descent. They went on to have a large family. 
Otero attended St. Vincent's Academy in Albuquerque until she was 11 and went on to Maryville College of the Sacred Heart (now Maryville University) in St. Louis, Missouri for two more years.  She returned to the ranch when she was 13 and helped educate her many younger siblings. At 16, her family moved to Santa Fe and Otero became a popular socialite among the elite. In 1908 she married  Rawson D. Warren who was a commanding officer in the U.S. Cavalry. They moved to Fort Wingate, near Gallup, New Mexico. She divorced him two years later and moved back to Santa Fe but kept her name as Otero-Warren. She told people that she was a widow rather than a divorcee and became active in New Mexico politics especially the suffrage movement. 
In 1917 Alice Paul tapped Otero-Warren to be the head of the New Mexico chapter of the National Woman's Party. Otero-Warren insisted that suffrage materials be printed in both English and Spanish to reach the widest possible audience. 
Otero-Warren went on to  be Superintendent of Public Schools in Santa Fe County and although the Federal Government was encouraging assimilation, she insisted on bi-lingual education and textbooks. During a short time as Santa Fe County's Inspector of Indian Schools, she was appalled at the poor educational systems afforded to Native American children and fought to improve them.
She remained very politically active in New Mexico, and unsuccessfully ran for Congress in 1921. She continued working  to improve conditions in her home state including being  Chairman of New Mexico's Board of Health, director of an adult literacy program, and an executive board member of the Red Cross.